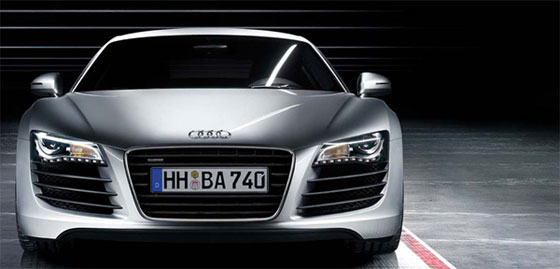 The first Iron Man movie, which came out in May, 2008, turned out to be a very supercar friendly affair. Among the vehicles in Tony Stark's multi-million dollar garage were a Saleen S7, a Shelby Cobra, a Tesla Roadster and an Audi R8. Stark even worked on a 1932 Ford Flathead roadster when he wasn't killing bad guys.

Robert Downey Jr. is seen driving in an Audi R8 V10 Spider during shooting of the film, which is scheduled to be released on May 7, 2010. In one of the spy photos, the V10 badging is clearly visible, confirming that Stark's drop-top R8 will be powered by VW's corporate 5.2-liter V10. With an expected 525 horsepower,the Audi R8 V10 Spider looks like our kind of Arc reactor.

With the first U.S.-spec Audi R8 FSI V10 going on the block in Boca Raton, earlier reports that the V10-powered supercar might not make it to the States have been debunked. Further proof that Audi isn't going to leave the U.S. out of the fun comes in the form of a directive to dealers (posted after the break thanks to one of our readers) that confirms the R8 V10 is on the way and, although pricing hasn't been officially announced, buyers can expect to pay approximately $45,000 more for the V10 model compared to its V8-powered counterpart.

The directive goes on to state that the R8 V10 will be sold in the States as a 2010 model and due to high demand for the current V8 variant, production of the V10 model cannot commence "as rapidly as anticipated in order to produce more V8 models to satisfy existing customer orders." Buyers who want to hold out from the V10 should expect a lead time of eight to ten months if demand and production of the R8 continues at its current rate.