Going all the way back to the dawn of time, if you ordered a new Mustang, the 6-cylinder option has always been the 'economical' and 'sensible' choice. Any warm-blooded American that craved real muscle car power would never dream of anything less than the mighty Ford V8 under their hood. Flash forward to 2015, when Ford introduced the 6th generation S550 Mustang, hosting a number of massive improvements both inside and out, most notably its first-ever independent rear suspension. Ford also introduced an EcoBoost 2.3L engine sourced from the Focus RS, but turned longitudinally and tuned at 310 hp for the Mustang.
Any raised eyebrows from the Pony car purists were quickly dismissed as this little turbo-charged 4 banger proved to make more power and deliver better fuel mileage than the old V6, which was finally retired after the 2018 model year. Add to the fact that a base 2.3 car is thousands less (starting at $26,670) and 200 pounds lighter in the nose than its Mustang GT big brother, there isn't much left to complain about. For 2020 Ford has added another option that makes this non-V8 version even more compelling: The EcoBoost High Performance Package.
So, what do you get for this $4,995 option? Besides the larger turbo 2.3 EcoBoost motor delivering 20 more horsepower, you also get a 3.55 limited-slip rear axle,
unique 19-inch alloy wheels, an active valve performance exhaust system (which sounds like a buzz bomb when it's open), larger springs, sway bars, and an impressive list of additional cosmetic, chassis and suspension upgrades. This really isn't an optional 'package' as much as it's an entirely different feeling car from the standard 4 cylinder model, taking the perfect performance slot between the base car and a Mustang GT.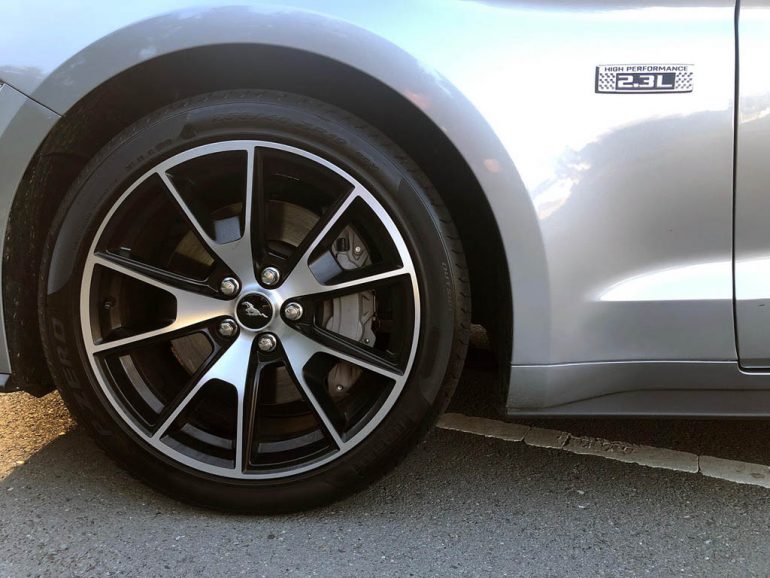 The motor is tuned to deliver that extra horsepower and torque throughout the entire rev range, and 0-60 mph sprints now happen in the mid 4's, especially when it's equipped with the quick-shifting 10-speed automatic as our car was. This $1595 optional 10-speed automatic transmission also did a commendable job of keeping in the right gear to always utilize the turbo's boost. With this lighter-than-the-V8 drivetrain, the car feels more nimble and precise over its GT brethren, and benefits better balance with a 53/47 weight distribution.
One option sadly missing from our test car was the EcoBoost Handling Package. It's safe to say that if you're going to spring for the 'Hi-Po' engine package, you'll get the absolute most out of it with the MagneRide adaptive dampers and larger brakes included in this $1995 option. I tested a Bullitt Mustang equipped with optional MagneRide last year, and it really does improve the ride quality on any street or track condition you throw at it.
Speaking of the Bullitt, that was the one non-Shelby Mustang that I walked away completely impressed with, the only model that put a huge smile on my face, and caused me to make excuses just to run mindless errands in it, just so I could get behind the wheel one more time. But now there is one more Mustang to put on that very special list: The 2020 EcoBoost with a High Performance Package. Yes, it's that good.
Jay Ward is a Bay Area based gearhead and the Creative Director for the 'Cars' franchise at Pixar Animation Studios. He also serves at an honorary Judge at Pebble Beach, Amelia Island, Audrain's, and Hilton Head Island Concours, as well as a regular contributor at the Jalopy Journal. You can find him and his kids at 'Dad's Daily Driver' on Instagram and Facebook.