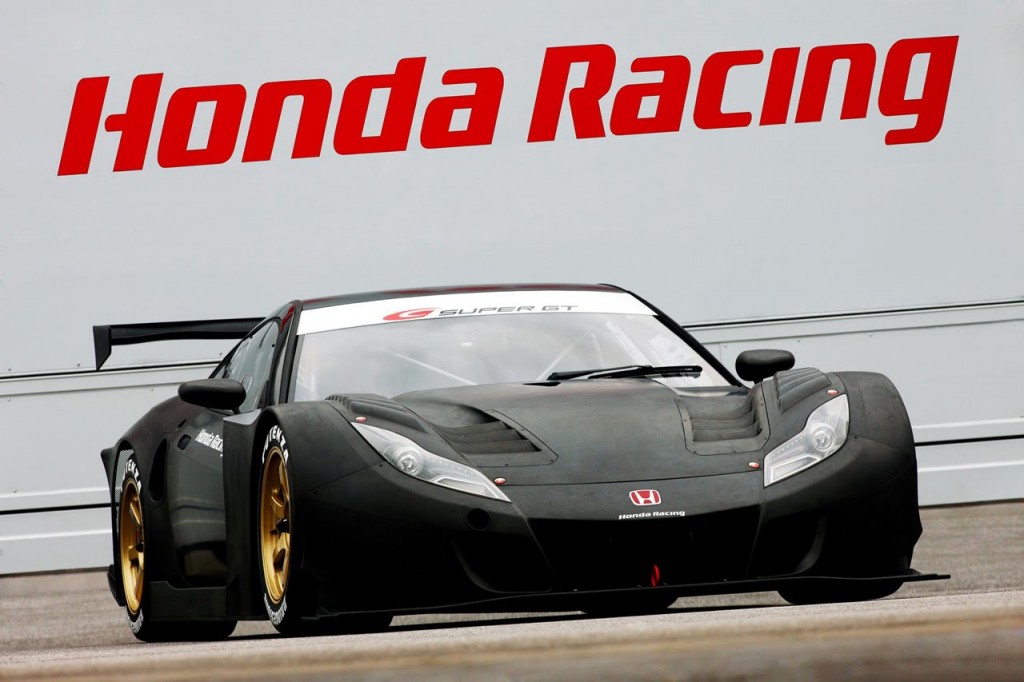 In this corner, weighing in at a curb weight of approximately 2,425lbs. (1,100 kg), the new champion of the GT500 class, the Honda HSV-010 GT, or at least that's what Honda hopes to hear one day soon.  Earlier this year, Honda Motor Co. introduced it's latest contender for JGTC fame, the Honda Sports Velocity 010 GT Super car.  The liquid-cooled, naturally aspirated, F/R, longitudinal V8 HR10EG powered car is the unlikely avatar created by Honda in their contention for GT fame in the 2010 Autobacs Super GT Championship Series of Japan.
Having successfully campaigned with the Honda NSX during the mid '90s,  the HSV-010 will replace the now defunct NSX Super GT car.  A reworked purpose-built 3.4L engine analogous to the 500 PS DOHC previously used by Honda in the NSX is at the heart of this track terror and will hopefully propel it to victory in all of it's gear-driven, paddle shifting glory. The HR10EG is borrowed from the 3.4-liter V8 engine used by Honda in Formula Nippon and has been transplanted into the HSV-010 for Super GT. Originally the HSV-010 was to be based on the now canceled Acura Advanced Sports Car Concept a.k.a the "New NSX" production vehicle. But market instability and  ongoing economic concerns have prohibited Honda's efforts to proceed full-steam ahead with a production vehicle that is available to the general public for consumption, instead opting to just dip a proverbial "toe-in-the-water" with the  HSV-010 GT, keeping the spirit of it's predecessor the NSX-GT alive and serving as a test bed for research & development while simultaneous pulling double-duty as Honda's unattainable new Halo car.
Honda engineers designed the HSV-010 GT to be "the ultimate cornering machine" surpassing  even the NSX in a front-engine rear-drive layout, a configuration that is a new experiment to the manufacturer in their Super GT machine.  With their new advances combined with proven technology from the NSX, the HSV is intended to be an "easy-to-handle, but high performance" super car.  All this sounds well and good and we wish Honda much success with their JGTC campaign and racing aspirations, but this news does little to fill the void left behind with the demise of both the NSX and the S2000.  The fact that the  HSV-010 GT exists at all only adds insult to injury, rubbing salt in our concept car craving wounds…maybe ASL will step up to the plate and put the Garaiya into production…hmmm Garaiya.