The all-new 2013 Ram 1500 continues its profound on-road and get-the-job-done attitude with an extensive refreshing for this year. Receiving a new freshened look on the outside and a tastefully revamped cabin, the new 2013 Ram 1500 proudly garnishes its 2013 North American Truck of the Year award excelling as the best Ram yet.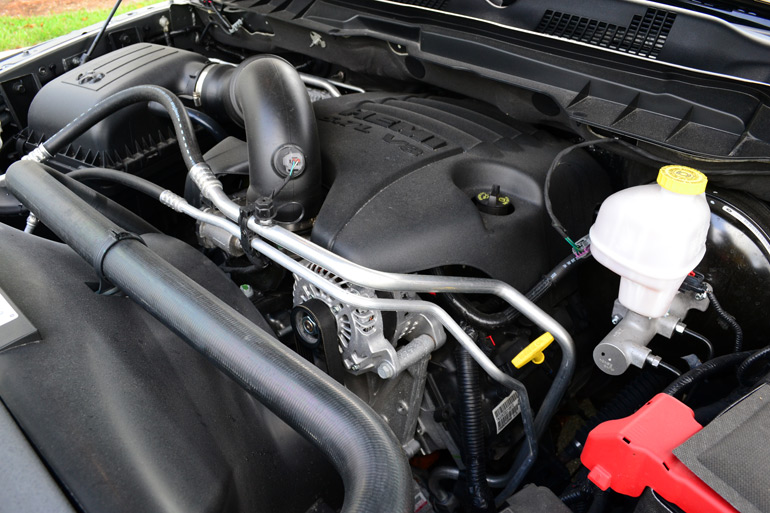 Touting a slightly refreshed face, the Ram 1500 starts off its base SLT trim life line with a more powerful and efficient 305 horsepower and 269 ft-lbs of torque V6 engine as standard equipment. Moving to my Ram 1500 Sport trim it adds the 5.7-liter V8 HEMI good for 395 horsepower and 407 ft-lbs. of torque. That is enough power to tow up to 10,450 pounds.
A brightly shining aspect of the new Ram 1500 Sport's powertrain is its efficiency without compromising its sheer power output. The new cylinder deactivation mapping is the most advanced yet allowing for 4-cylinder modes at low speeds and the ability to hold the 4-cyinder mode under conditional moderate loads or gas pedal inputs. Not only do the transitions from 4-cylinder to 8-cylinder modes happen without any visual indication on the dashboard, but your uninterrupted attention is required to take notice to the subtle switchover. Basically, the cabin remains vibration-free from the deactivation making the whole experience seamless and economical.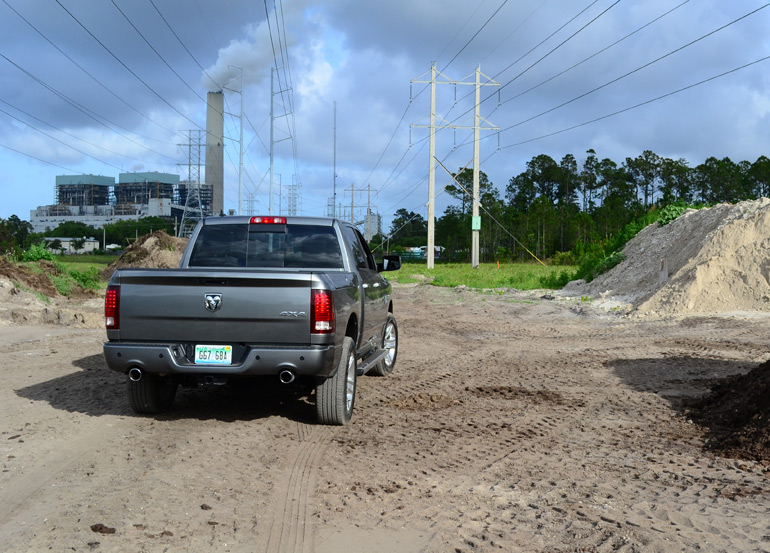 The efficiency model of the new Ram 1500 does not end with its powerful and efficient V8 engine, but being mated to a new 8-speed automatic transmission sets other fuel saving and performance advantages in motion. The 8-speed automatic transmission shifts smoothly yet is up to the job of transmitting power to the rear wheels or all four to tow just over 10,000 pounds at the push of a button. The 8-speed automatic has manual shifting buttons forward-facing on the steering wheel just above the cruise control buttons. With just a load of a few passengers you could expect to get as much as 25 mpg on the highway. During my excursions on the highway with just two passengers I was able to average 23.6 mpg on the highway at about 60 mph. Of course this figure dropped drastically after climbing above 70-75 mph. Around town I saw a low average of 14.9 mpg, which is a bit short of the EPA estimated 17 mpg city mark probably due to my enjoyment of the 407 ft-lbs. of torque jolting the Crew Cab forward from a dead stop.
Creature comforts in vehicles like the new Ram 1500 make it an attractive buy for those seeking a vehicle that can serve many purposes. Equipped on my new 2013 Ram 1500 4×4 Sport Crew Cab was a new air suspension system (only available for quad and Crew Cab models). The system provided the ability to raise and lower the vehicle as much as 4 inches total for a low entry-exit height, normal height and two off-road height settings. Taking many of its advanced control cues from the Jeep Grand Cherokee, the Ram 1500 Sport's air suspension automatically lowers to an 'Aero Height' when speeds of about 60 to 65 mph are reached. The vehicle will automatically return to normal ride height when the speed drops near 30 mph. Moreover, the ride quality benefits from the air suspension system making use of the Ram 1500 Sport Crew Cab's long 140.5-inches of wheelbase. To me the ride quality was among the best in its class, though the expected sharpness to the ride when going over bumps or uneven terrain reminds you that the Ram 1500 Sport Crew Cab is still a rugged and capable truck.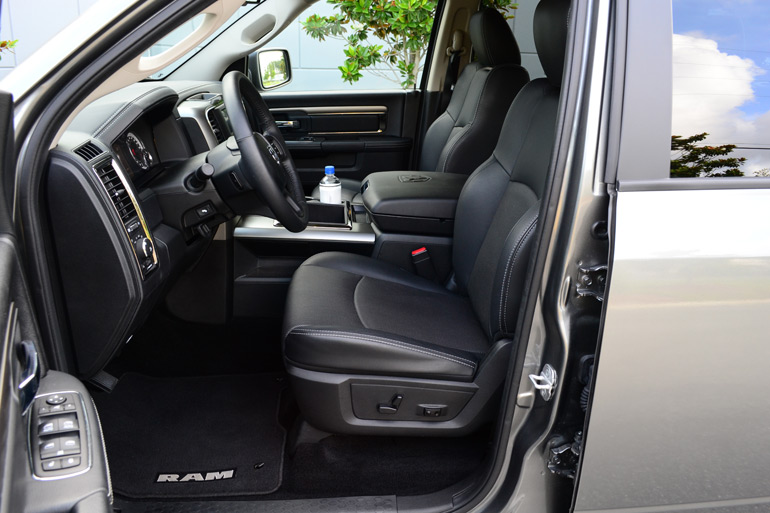 The new 2013 Ram 1500 embodies many new design elements, especially throughout its redesigned interior cabin. As an American 'Guts and Glory' pick-up truck, the new Ram 1500 Crew Cab can transversely give off an impression of a large SUV's cabin. Interior space is plentiful, enough for 5 tall adults and leaving a bit of extra room to spare. The heated/ventilated perforated leather bucket seats up front add a bit of luxury to the equation topped off with the advanced gadgetry found in the latest iteration of Chrysler's Uconnect system, which is fed through a new high-resolution 8.4-inch LCD touch-screen.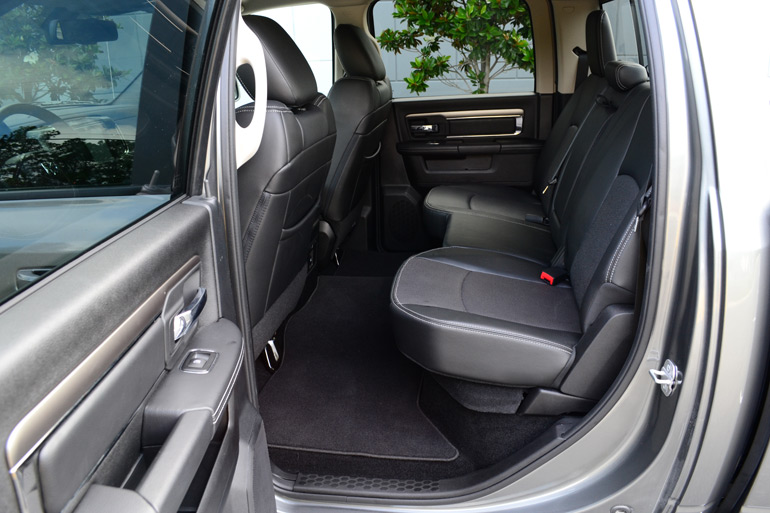 Having several controls virtually at your fingertips via the large center-dash color LCD touch-screen, makes the enjoyment of bringing infotainment into an environment thought to be only for the rugged blue collar worker or outdoor sporting adventurer. You can have your cake and eat it too, literally.
Truly setting itself into a new pick-up-truck realm is the plentiful amount of features and luxury amenities that can be had on the new Ram 1500. The Ram 1500 in its 4×4 Crew Cab Sport flavor gives you body-color painted bumpers, dual exhausts encased in the painted rear bumper, sport accents – all meshing into the forward slanted nose of the Ram. Up front you have the characteristic Ram grill, also accented in the body color, and a darkened housing for the new projector beam headlights. Out back the LED taillamps get a darkened color treatment. The side door badging is enlarge possibly to signify the serious statement the Ram makes in is under-skinned ruggedness.
Other design elements refreshed for the new 2013 Ram 1500 simply make life easier. The Ram 1500 Sport Crew Cab is quite the versatile truck. The new optional Ram Box compartments add a water-tight, lockable and lighted storage area on either side of the cab. This storage area option, in conjunction with a dual glovebox and adjustable cargo tie-downs and a bed extender, give you plenty of possibilities for stowing and going.
Many other convinces offered on the new 2013 Ram 1500 Sport Crew Cab really make its easy of drivability and class-leading cabin a temporary home away from home include power-folding mirrors, rearview backup camera with back-up sensors, power rear-sliding window with defrost, optional full-size 6-foot-4 cargo bed, central locking system (locks doors, tailgate and RamBox with power locks), power stainless-steel running boards, keyless entry/ignition (remote start), and a WiFi hotspot link. Other notable features include LED interior lighting, LED front park lights and blinkers, 7-inch color configurable multiview display in the instrument cluster (displays detailed vehicle information, settings, etc.), rain-sensing wipers, Electric Shift-On-Demand Transfer case (electronic turn knob for shifting in P R N D) and a deep full-length floor console dual storage area.
The new 2013 Ram 1500 4×4 Sport Crew Cab is surely the way to go for a robustly-styled yet sporty looking truck with ample room for 5 occupants, capable towing of just over 10,000 pounds, a cabin that exudes quality and a hefty dose of luxury, and  excellent ride comfort all without diminishing its true duties as a serious truck.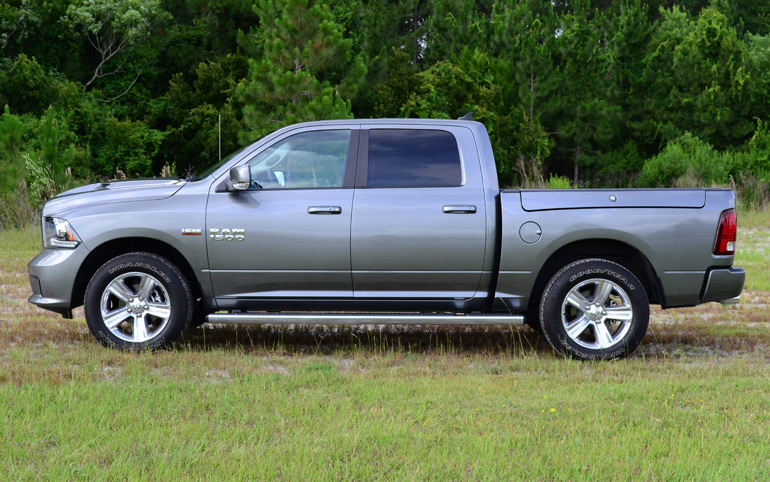 The pricing of the new 2013 Ram 1500 starts at a respectable $34,080 for an SLT trimmed V6 Crew Cab model. From there the HEMI V8-powered Ram 1500 4×4 Sport Crew Cab gets a starting sticker of $41,555. Loading up a new Ram 1500 Sport Crew Cab with the better portion of every available amenity from the long options list, you can expect to pay the admission price of about $53,000. Of course you can bring that price down quickly by thousands through elimination of stand-alone options like the RamBox Cargo Management option ($1,295), Leather-Trimmed heated/ventilated bucket seats and heated steering wheel ($1,875) or the Active-level 4-corner Air Suspension system ($1,595). Either way you have it, the all-new 2013 Ram 1500 is well deserved praise of being the 2013 North American Truck of the Year and Motor Trend's 2013 Truck of the Year.
Copyright: 2013 AutomotiveAddicts.com
SPECIFICATIONS
Price: Base Ram 1500 Crew Cab SLT $34,080 / As-Tested Ram 1500 4×4 Sport Crew Cab $53,795 including $995 destination charge
Engine: 5.7-liter DOHC HEMI V8  395 horsepower @ 5,600 rpm / 407 ft-lbs. of torque @ 3,950 rpm
Transmission: 8-speed automatic with Electric Shift-On-Demand Transfer Case
Wheelbase: 140.5 in.
Total length: 229 in.
Total width: 79.4 in.
Fuel tank: 26 gallons (optional 32 gallon tank – as-tested)
Headroom: f/r-41.0/39.9 in.
Shoulder room: f/r-66.0/65.7 in.
Legroom: f/r-41.0/40.3 in.
Curb weight: 4,550 – 5,900 lbs.
0-60mph: 6.1 seconds
EPA mileage: 17 mpg city/ 25 mpg/highway
Max Towing: 10,450 pounds