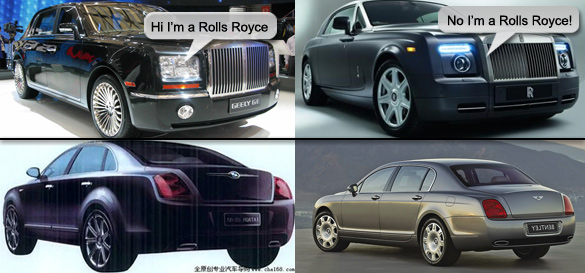 We hope you haven't eaten lunch yet, because we promise what you are about to see is sure to make even the best of us a little nauseous.  Allow us to introduce you to the Geely GE and the Hautai – Chinese clones of the Rolls Royce Phantom and Bentley Flying Spur.
Geely GE: un-Rolls Royce Phantom
This,  ladies and gentlemen, is the Geely GE.  And the first thing we will tell you about the GE, is that the executives at Rolls Royce are not amused that the unmistakable Rolls Royce look is being copied by Geely.  While Rolls Royce & their lawyers are not yet saying that they intend on suing Geely, Rolls Royce has publicly stated that they are, in plain English, keeping their options open and are meeting with legal advisers.  The Geely GE is expected to sell for £30,000 – or about $44,000 USD.  This is significantly lower than a £262,000/$400,000 authentic Rolls Royce Phantom, however, the question is: Would you want to be seen in a Geely GE?  Would it impress those around you?  It's like buying a replica Rolex, Panerai, or any fine watch for that matter.  Many watch enthusiasts can tell a replica from a mile away, and if you are trying to impress someone often times it works out the complete opposite.  If you were to pull up in a Geely GE to an exotic/fine luxury car meet, most people would spot/call this car out a mile away.
Hautai: The Baby Bentley for the Baller on a Budget (How's that for a tongue twister?)
In a close second in the luxury copycat war is the Hautai [no model name released yet] copycat Bentley Flying Spur.   From the back and side it looks like…well…a Bentley Flying Spur.  From the front it looks like a mixed breed Hyundai and Bentley gone bad.
Where I live – Naples, FL, I always refer to the Bentley as the Naples Camry, because I literally see 25 of them a week.  In most cities though, catching a glimpse of a Bentley is a rare sight – a rare glimpse of rolling luxury and prestige.  Aparently the Huatai Automobile Group, based in Beijing, China [who by the way, specializes in SUVs), has the ability to build 200,000 of these vehicles annually.  200,000! To put this into perspective, in 2007 Bentley only produced 10,000 cars per year total and only around 4,000 of these were Flying Spurs.   Unfortunately very little is known about this Hautai model right now, but you can count on Automotive Addicts to keep our eyes peeled for developments.
With all of these plans for clones, luxury auto manufacturers are going to become increasingly worried about preserving the image of their brand and we are bound to see some lawsuits in the future.  We can't wait to find out who will be the next company to send us pictures of a clone to talk about!  Hopefully it will be a Maybach…