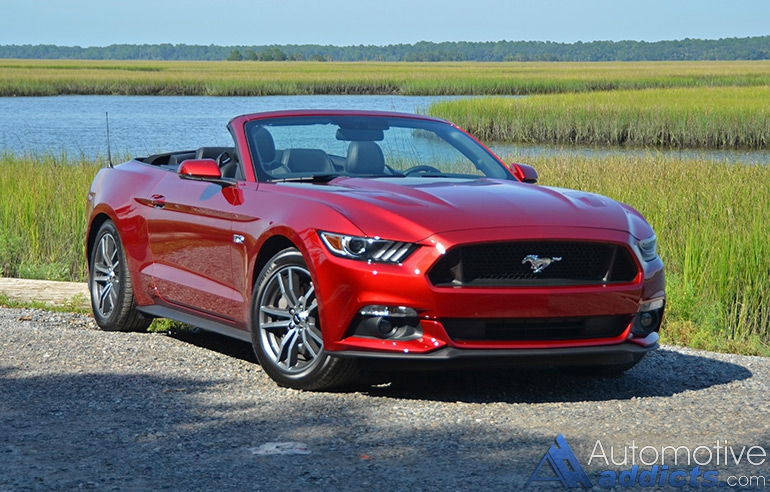 In the 50 years that the Ford Mustang has been in existence, it has stood the test of time to accompany a wide array of transportation and motorsports attributes to the automotive world. With the latest iteration of the Mustang, Ford has put forth their best efforts to provide many different trim levels, engine choices, and an ideal soft-top convertible that can be had with the powerful 5.0-liter V8 engine.
My latest test drive endeavors brings me to the 2015 Mustang GT Convertible sporting the famous Coyote 5.0-liter V8 engine now with 435 horsepower and 400 lb-ft of torque directed to the rear wheels. In a new fashion for the Mustang, the rear incorporates an independent suspension setup permitting a better road and track-going attitude.
Mated to a 6-speed automatic transmission with steering wheel-mounted shift paddles in my test vehicle, the Mustang GT Convertible is quite the plug-and-play drop-top cruiser that just about anyone can have a bit of generous forward-thrusting fun in.
The performance of the Mustang GT Convertible plays down the coupe's chassis with some reinforcements that add a bit of weight but is somewhat kept in check by the retuned suspension. The smaller 18-inch 235-patched tires on my test vehicle were easy to peel away in concert with the 5.0-liter V8's deep rumble while the body seemed to loft a bit with a tad of cowl shake on transitioning directions on spirited drives down twisty back roads.
The steering, left to its 3-mode weighted settings (Comfort, Normal, Sport), felt mostly artificial with minimal feedback. However, the fun starts and ends with the quick-to-spin V8 engine and consistent runs to 60 mph in 5.3 seconds without fail. Fuel efficiency is at a consistent but underwhelming 15 mpg city and 24 mpg highway – possibly the price that must be paid by enthusiasts for the thirsty V8 pumping out 435 horsepower.
The 2015 Mustang GT Convertible is that rental car that everyone wishes was still on the available list after a long haul from a short-on-legroom middle coach class seat sandwiched between two overweight guys. Slipping into the ventilated leather seats up front and manually unlatching the power-folding top while the rumble of the V8 awaits your right-foot inputs never felt and sounded so great.
See Also: 2015 Ford Mustang GT 50th Anniversary Edition Review & Test Drive
The Ford Mustang has always been on my list of vehicles that continually spark my curiosity. That curiosity mostly draws from the newest Mustang's performance figures and stats listed on paper. While they justifiably compete with performance vehicles nearly twice its price, the Mustang continues that tradition of being America's prided pony car for the masses that can be had in many different configurable flavors to suite your unique character.
Everything about the 2015 Mustang works and all comes together to limit disappointment. In that, Ford has kept the Mustang formula rather simple – a method that only works for a mass-produced vehicle.
There is no doubt to the 2015 Ford Mustang being the best yet for a late-model pony car. In its GT convertible form, the Mustang still retains those traits to keep consumers coming back for an affordable means of transportation but with some added flare in the area of style, reliability and above all for enthusiasts, meaty performance found in the GT's 5.0 V8 engine.
My test vehicle, nearly fully loaded, came to a price of $48,690 including an $825 destination and delivery charge. With a starting price of $30,200 for the new Mustang V6 convertible, $35,700 for the EcoBoost turbocharged convertible, and $41,800 for the 5.0 V8-powered GT Convertible, consumers will do a justice to themselves to never omit the Mustang on their shopping list for an affordable drop-top that permits the most bang for your buck in terms of performance in such a segment.
Copyright: 2015 AutomotiveAddicts.com
SPECIFICATIONS
Price: Base Mustang GT 5.0 Convertible $41,800 / As-Tested Mustang GT 5.0 Convertible: $48,690
Engine: 5.0-liter V8 435 Horsepower @ 6,500 rpm / 400 lb-ft Torque @ 4,250 rpm
Wheelbase: 107.1 inch
Total length: 188.3 inch
Total width: 75.4 inch
Total height: 54.9 inch
Track: f/r-62.3/64.9 inch
Legroom: f/r-44.5/30.6 inch
Headroom: 37.6/35.7 inch
Turning circle: 37.8 ft.
Gas tank: 16 gallons
Trunk: 11.4 cu.ft.
Curb weight: 3,872 lbs.
EPA mileage: 15 mpg city / 25 mpg highway
0-60 mph: 5.3 seconds