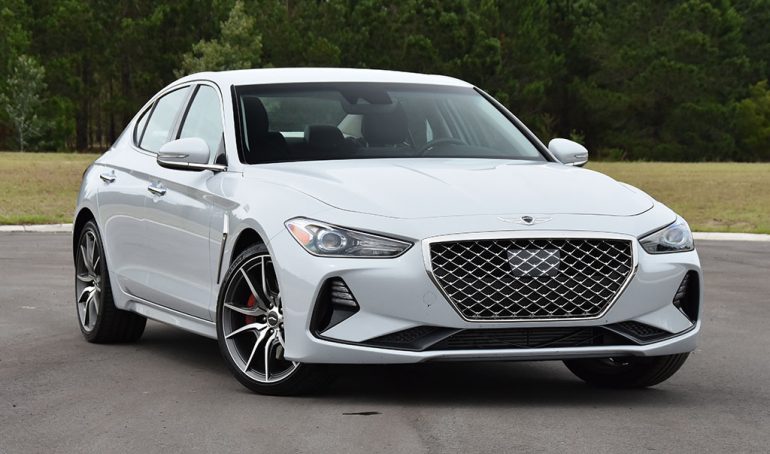 The Genesis brand is finding a respected groove in the automotive luxury landscape that some are taking notice mostly due to the lower price point for vehicles that seem to offer the expected luxury fundamentals. Moving to a smaller formula, Genesis brings us the G70, which also comes in a manual transmission flavor, which is a rarity in any segment, let alone the luxury automotive market.
The Genesis G70 has been one of my favorites for small luxury sedans and, at times, putting a smile on my face more so than the current BMW 3 Series with a similar setup. While my drive in the 2019 Genesis G70 RWD 3.3T last year was enjoyable, having the 2020 G70 with the smaller turbocharged 4-cylinder engine mated to a 6-speed manual transmission is an interesting take. The familiar driving dynamics in its handling and ride quality are well intact, but the smaller engine matched with what feels like an unengaging 6-speed manual transmission seems not to work well together.
See Also: 2019 Genesis RWD G70 3.3T Sport Review & Test Drive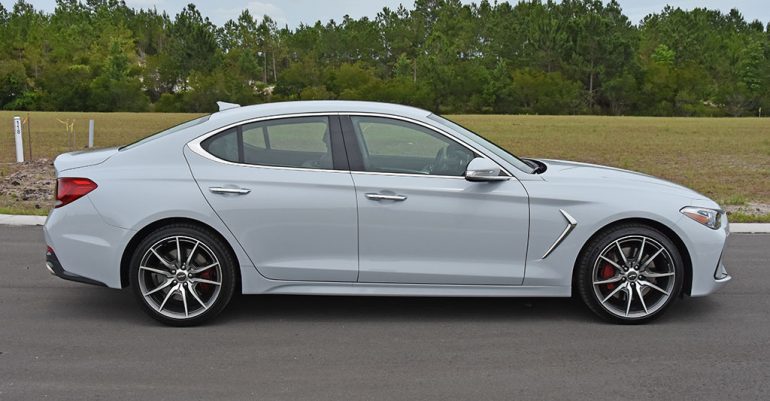 Let's face it, the manual transmission is a dying thing, and people like me have traditionally balked at the idea of killing off the manual transmission. However, with what today's advanced technology has afforded us, enthusiasts like myself are starting to slowly adapt to the idea of piloting enthusiastic vehicles with automatic and automated dual-clutch transmissions. The 6-speed manual transmission that Genesis equips in the G70 is good on paper, and the turbocharged 4-cylinder engine looks to be a decent powerplant in the scheme of having a healthy 255 horsepower and 260 lb-ft of torque sent to the rear wheels.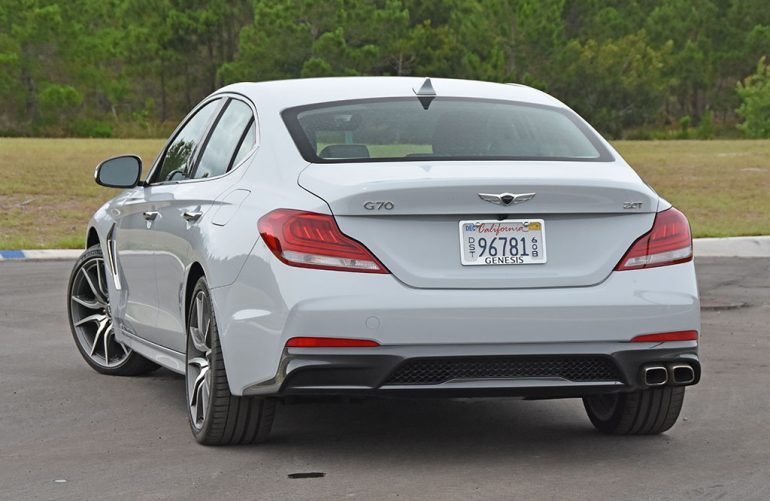 When out on the road driving the new G70 2.0T Sport Manual Transmission, things don't feel as seamless as they should. Rowing through the 6-speed manual transmission's gears are somewhat of a mixed bag even when you make a required extra effort to shift smoothly things don't mesh well. What I am getting to is the power from the turbocharged engine don't do the manual gearing ratios any justice as at times it feels that the power band of the turbocharged 4-cylinder has dropped out leaving you with lagging power. If you keep things near redline and shift, it gets better but only marginally. It's not to say the G70 Sport Manual is a slouch, it just doesn't live up to what I expect in a luxury sports sedan – with a manual transmission as a 2020 model year vehicle. Overall, the G70 Sport Manual feels good for tossing it around due to the slightly lighter curb weight than its more-powerful G70 3.3T sibling. I can say, I do miss the G70 3.3T Sport after driving the 2.0T Sport Manual trim, that robust initial power is missing. Too bad Genesis doesn't pair the manual with the more-powerful 3.3-liter twin-turbo V6 engine, which I had fun in my last review of the G70.
As far as equipment goes, the G70 hasn't changed from its introduction as a 2019 model other than the Sport Manual now getting the better brakes featuring Brembo 4-piston calipers up front just like its beefier G70 3.3T counterpart. A rear limited-slip differential also remains if you ever decide to drive the wheels off of the G70 Sport Manual, which is an engaging experience because you really have to push it to the limits to get the rear wheels to spin.
The interior remains the same featuring much of what I liked in my 2019 Genesis G70 3.3T review from last year minus a few options, such as a power-sliding sunroof, quilted leather trimmed seats, color heads-up display, and a wireless phone charger. Otherwise, my G70 Sport Manual test vehicle gets many desirable features, such as heated and ventilated front seats leather seats up front, Apple CarPlay and Android Auto integration, the favorable easy-to-use Genesis infotainment system fed through a high-mounted 8-inch color touchscreen, and a plethora of active safety features minus adaptive cruise control.
The pricing for the Genesis G70 2.0T with the 8-speed automatic transmission starts at just $35,460. Oddly enough, opting for the 6-speed manual transmission will add about $3,000 to the price, which gets you a slightly slower acceleration time and worst fuel consumption than the automatic at 18 mpg city and 28 mpg highway. The G70 2.0T automatic transmission gets 22 mpg city and 30 mpg highway. There's a price to pay for having a manual transmission in more ways than one, as much as $39,000 for my test vehicle as it sits. The G70 Sport Manual also takes about 6.5 seconds to hit 60 mph. Will the manual transmission win over enthusiasts in the G70? Maybe on paper, but after driving it I'm not one to recommend such a setup. Give me the G70 3.3T Sport automatic any day, I'll pay the extra $6,000.