Still trying to figure out what to get that person who seems to have everything? How about a "homemade" gift that pretty much any car enthusiast would love?
My mom has a fun little Fiat 500 that she picked up a few months ago. She bought a metallic black POP model that looks great but could use, well, a little more pop. That's where MoProAuto.com's 2011-2014 SE 5 Italian Gucci Stripe kit comes in.
I really wanted to do something special for my mom, she's always been there for me. (I think many of us feel the same way about about our mothers) She really loves her little Fiat and she is first generation Italian-American, so the graphics kit seemed like a perfect fit.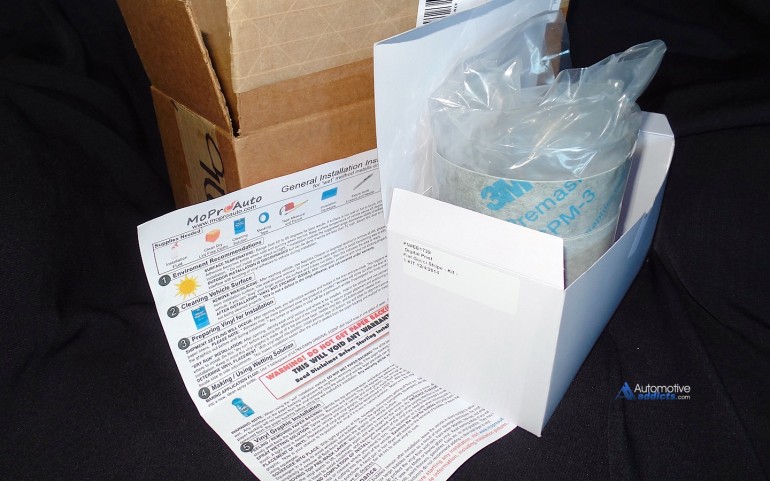 I ordered the kit late Thursday night and the package arrived at my doorstep the following Tuesday morning. That's fast. The vinyl is high quality 3M product and appears to be really well made. I am waiting for some warm weather this weekend to install the stripes. The directions state that it needs to be at least 45 degrees for the 48 hours after install for the glue to properly set. Honestly, I am as excited to see what they look like on the Fiat as I know my mom will be!
Make sure to check out MoProAuto.com's website, maybe there is a stripe kit that will help you with your holiday shopping list. Or maybe you need to buy a little something for your own ride!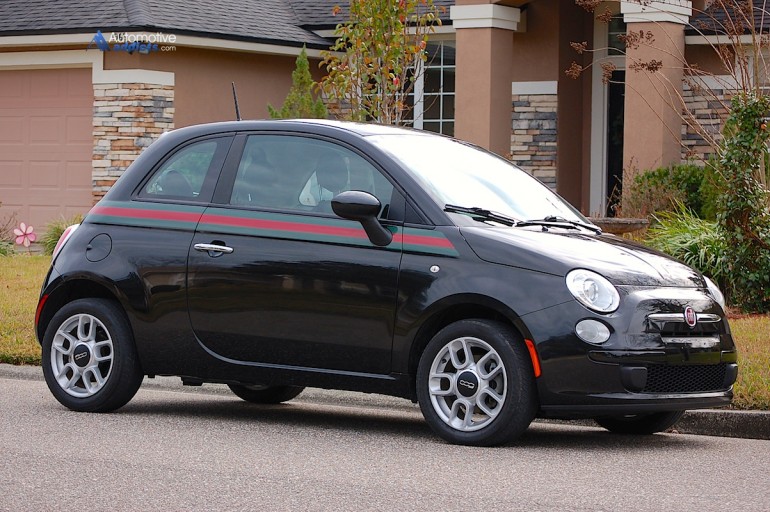 UPDATE:
I installed the stripes using the directions from MoProAuto.com. I am a novice with graphics and had no special tools, but followed the directions to the letter. The total installation, including cleaning took about 3 hours. Some tips that I picked up…
First, take your time! No need to rush. I found the process to be really satisfying and enjoyable. I laid out the stripes using masking tape as guides and then used the "wet" technique and was able to adjust them as I laid them on the car.
Second, the instructions say to use a squeegee and I started off with one but quickly switched to using my fingers. I found that worked better and there was less of a chance of scratching the vinyl. Just a personal choice, I'm sure results and preferences will vary.
Third, keep the surface cool until you are 100 percent sure you are done placing the graphics. The heat does wonders to the vinyl, but it makes it very soft and they set quickly with direct sunlight. I did wrinkle one of the stripes, but the 3M vinyl is thick enough that with a warm blow dryer I was able to smooth it out.
Last, but not least, a clean environment is key! Don't trap any dirt under the stripes or you will see bumps later.
From my mom:
Growing up in an Italian home has left me with many rich memories of family gatherings, embellished with an overabundance of food that was to die for. My mother, being a native of Italy and still one of the best Italian cooks I have ever encountered, spared no expense, leaving a legacy of scents that filled our home that will always be embedded in my mind and accompany my senses.

I recently came to a realization that totally took me by surprise.  After driving for going on 50 years I fell in love with, believe it or not, a vehicle. This was not only the car that revealed my love for an innate object but also served as the catalyst of a renewed admiration for my Italian heritage.

Yes, the Fiat 500 gave me 500 more reasons to appreciate my heritage as never before. It was as though I was united with an old Pisano I had never met before. Yes it was love at first sight and I knew that I had to have this automobile.

Well my desire was fulfilled and my Pisano is now a part of our familia. My son just surprised me with a designer gift for my Pisano of Gucci stripes to adorn my Fiat 500 . What more could I ask for. Ciao Bella!