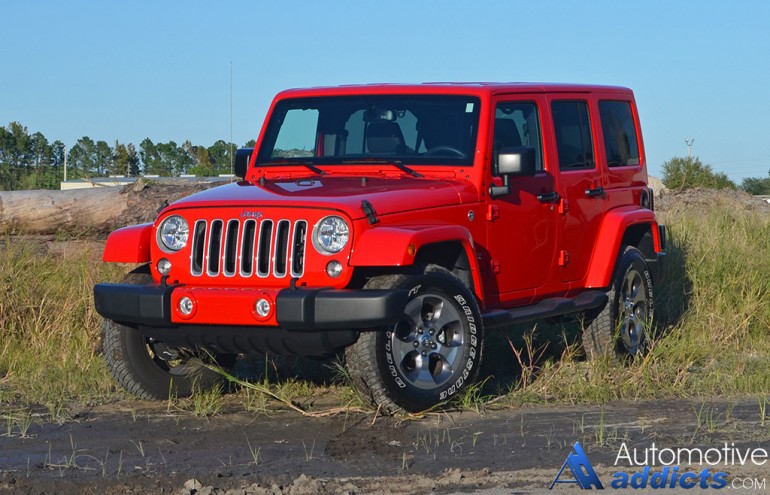 The Jeep is one of the most recognized types of vehicles on the road and has been for almost 75 years, the time that the Jeep brand has been in existence. Marking 75 years, Jeep has recently thrived off of its FCA (Fiat Chrysler Automobiles) brand umbrella in the recent years to continue subtle improvements without watering down the well-known signature of being one of the most rugged and off-road capable vehicles on our American roads today.
In my latest quest to tackle a new vehicle for the week, the 2016 Jeep Wrangler Sahara Unlimited graces my driveway bring with it an undeniable character that can only be found in a Jeep. That character, one that has a go-anywhere attitude without being bashful about lacking plush amenities or a hint of luxury, is unapologetic in its coarse driving traits and its tall boxy build with removable doors, roof, and rear cab. Jeep makes no apologies for being what it is, a proven icon among giants that roam the earth with a signature style that cannot be confused with anything else on the road or your wooded trails encumbered by terrain that very few would dare to venture.
>> Get the best price on the Jeep Wrangler Unlimited from a network of local dealers now. <<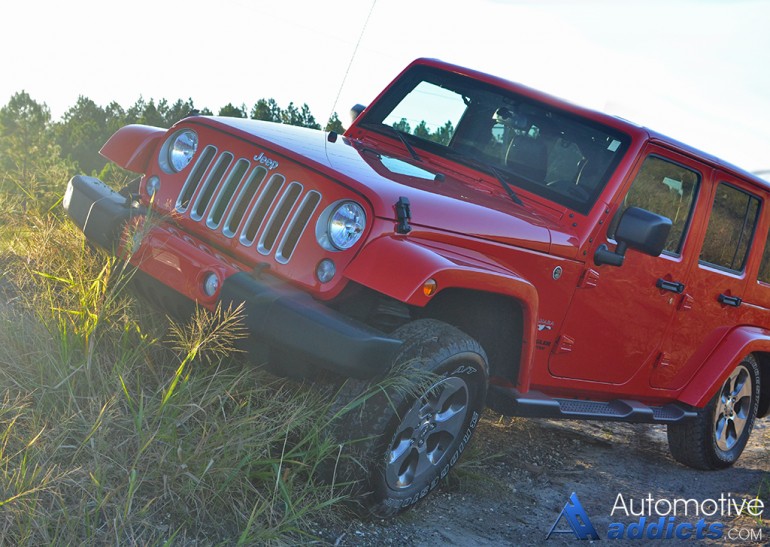 For the 2016 model year, Jeep's latest Wrangler in its 4-door Sahara Unlimited trim retains the 3.6-liter V6 engine with 285 horsepower and 260 lb-ft of torque mated to a 5-speed automatic transmission as the only powertrain setup. Though, a 6-speed manual transmission comes as standard equipment throughout the lineup. Also, keeping with tradition, the performance aspects of the high-ground-clearance Jeep Wrangler play more with its off-roading prowess than its on-road duties. With that said, the Wrangler has a suspension setup that is conducive of body roll and lean that may not sit well with everyday commuters. Though, its rugged character and overbuilt suspension setup permit conquering of surfaces or mountainous terrain with rocks, mud, snow, rut, and just about any other type of ground surface you can imagine on planet earth. The use of the Wranglers low crawl ratio in 4-low permits added confidence and capability in climbing or navigating extremely rough terrain. Additionally, the hill start assist and hill descent control on my Wrangler Sahara Unlimited come to the rescue for going up or down steep inclines.
Zero to 60 mph on paved road surfaces comes in just above 8 seconds in my tests. Braking can be somewhat of a gamble as the Wrangler Sahara Unlimited is conducive of discerning body dive just upon impending ABS activation. Though, the Jeep Wrangler still comes to a panic stop in a straight line, just barely. Fuel economy, also as expected and exactly what I observed with such a boxy and upright body stance, isn't all that stellar getting a consistent 16 mpg city, 20 mpg highway, and 18 mpg combined.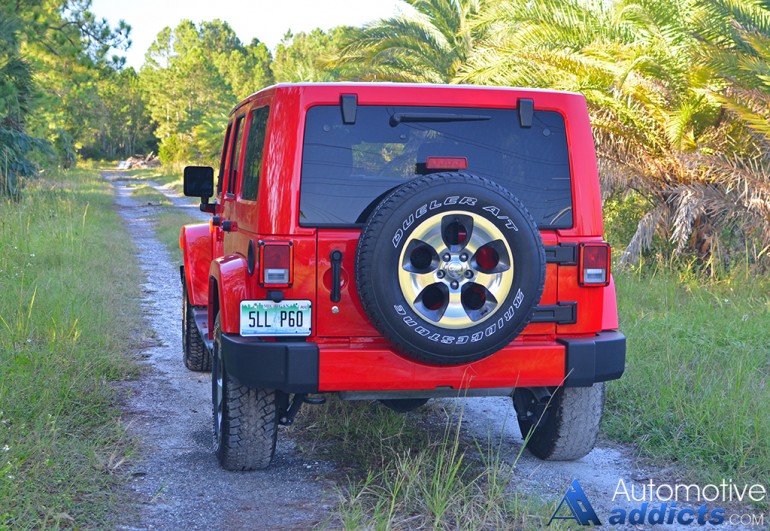 Fortunately, the Jeep Wrangler Sahara Unlimited in its longer wheelbase and 4-door form permits a better ride quality and balance over the shorter wheelbase variations. The added versatility of the Sahara Unlimited trim is welcomed with several amenities, such as heated leather seats, 60/40-split folding rear seat backs, larger gas tank, automatic air-conditioned climate control, and a touchscreen infotainment system with GPS navigation.
The Jeep Wrangler Sahara Unlimited, like virtually all other trims of the Wrangler, sacrifice on-road performance for being a true off-roader that can be immersed in about 30-inches of water without issue thanks to a high-mounted engine air intake. With that in mind, the Wrangler isn't subjected to the expected criticism that a common SUV or crossover utility vehicle would receive. Getting that automatic free pass, the Jeep Wrangler is still a vehicle that one could use for multiple duties, even if it means making sure all of the doors and tops are in their proper place to commute to an office every day wearing a suit and tie. Not to mention, the respect of driving a Jeep among other Jeep owners is a welcomed mannerism in knowing that you will get a friendly acknowledgment with a wave when encountering fellow Jeep drivers. It's a Jeep thing, and I totally get it!
The sacrifices made in driving a Jeep Wrangler are not for everyone. However, the enjoyment that is offered with a Jeep Wrangler Sahara Unlimited, with four removable doors and removable tops leave those who navigate the roads less traveled with a unique versatility. With that sacrifice, luxury is completely out of the equation, and you're left to do with loud road noises, questionable handling at times on the road, and the absence of any active safety features, such as a review camera or blind spot monitor. Forget all of those traits, and you will be happy as can be considering you are driving one of the most capable and proven off-roading vehicles ever to come off of an assembly line.
Jeep continues to go the extra mile to ensure their Wrangler, even in the 4-door Sahara Unlimited version, a middle of the row trim level, to keep pace with all things that you expect in the original Jeep. The abundance of hard plastics and panels allow for easy cleaning and toting items that you wish to literally throw in the cabin or cargo area. Speaking of the cargo area, not much has changed or deviated from a formula that has worked for nearly 75 years with the ability to tote anything that can fit in the confines of 70.6 cubic feet of space. Towing capacity, at up to 3,500 pounds, remains somewhat limited when compared to many other new crossovers and SUVs. However, you don't see many people buying a Jeep Wrangler to tow stuff; usually, the "stuff" gets run over, instead.
Jeep is a legend, and the Wrangler continues to be the brand's star. With the small changes that the Jeep Wrangler receives each year, the Wrangler doesn't forget where it came from, and it shows it in retaining a traditional design and off-roading character. The added color options for the 2016 model year and additional changes forthcoming in the 2017 model, keeps the Wrangler beckoning for Jeep enthusiasts and future converts to the Jeep life.
At the starting price of $27,695 for a base model Wrangler Unlimited Sport 6-speed manual, the Jeep is the ultimate go-to for confidently prowling the earth's rough terrain. My mid-level-trimmed 4-door automatic transmission Wrangler Sahara Unlimited comes to an as-tested price of $44,495, including a $995 destination charge.
>> Get the best price on the Jeep Wrangler Unlimited from a network of local dealers now. <<
SPECIFICATIONS
Price: $31,395.00 base/$38,685.00 loaded including destination
Engine: 3.6 liter DOHC all-aluminum V6 285 horsepower @ 6,400rpm / 260 lb.ft. torque @ 4,800rpm
Transmission: 5-speed automatic w/manual -/+ floor selector
Wheelbase: 116 inches
Track: f/r-61.9/61.9 inches
Overall length: 173.4 inches
Overall width: 73.7 inches
Overall height: 70.9 inches
Ground clearance: 9.7 inches
Curb weight: 4,269 pounds
Headroom: f/r-41.3/40.4 inches
Legroom: f/r-41/37.2 inches
Cargo volume: rear seat folded-70.6/rear seat upright-31.5 cu.ft.
0-60 mph: 8.2 seconds
Fuel tank: 22.5 gallons
EPA mileage: 16 mpg city / 20 mpg highway