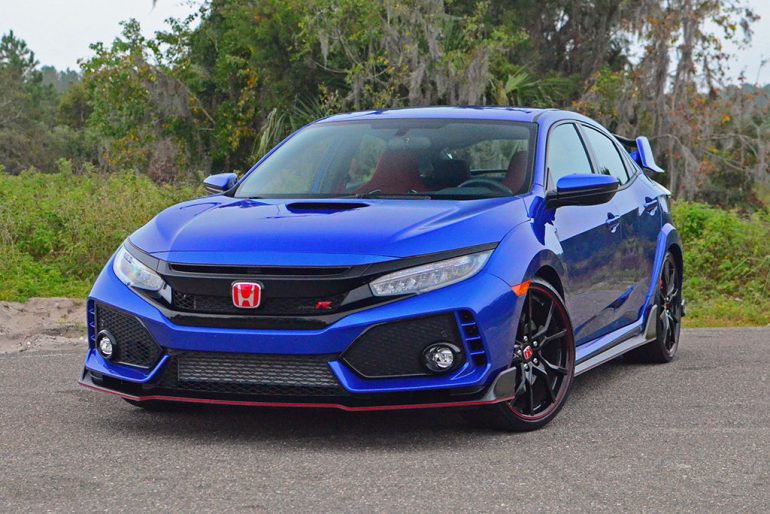 I can remember the days when I was first enamored by each new edition of Sport Compact Car Magazine and every other popular car-buff mag in my youthful eyes. The Sport Compact Car Magazine offered something just for me, features of vehicles that were attainable for me at the time of my infatuation with affordable pocket rockets – as they called them. The brand that often made the cover of Sport Compact Car Magazine was Honda because they naturally had the heartbeat of the sport compact car segment in the Honda Civic.
>> Get the best price on the Honda Civic from a network of local dealers now. <<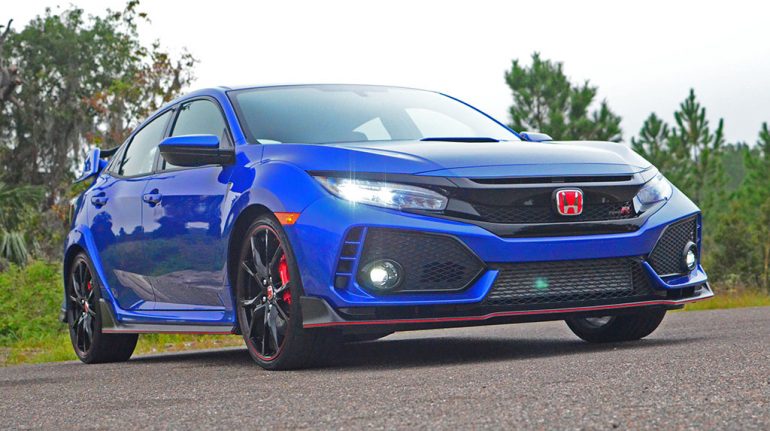 Embarking on its tenth generation, the Honda Civic has been a benchmark for its segment for over four decades with much success collecting many attributions and justifiable awards along the way. When it came time to appease hard-core enthusiasts, the Civic appealed in ways that always came short of what Honda made available across the pond in the form of vehicles like the Civic Type R. Now, some 40-plus years later the Civic Type R finally makes its way into the heart of America and after a week enjoying the best of performance that Honda has to offer, I'm rather surprised and welcoming such a vehicle with wide open arms.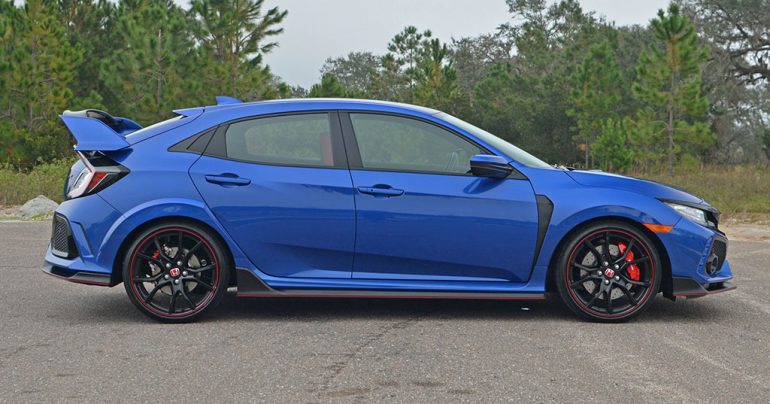 To shock my readers, I'm willing to land on the idea that the new Civic Type R is the best front-wheel-drive performance-oriented car currently available. While such a statement isn't all that outlandish considering that there aren't that many front-wheel-drive vehicles north of 300 horsepower on the market, I'm pretty sure I'm safe with such a bet.
The new Honda Civic Type R is strong and willing, a vehicle that is deserving of thrashing on canyon roads, living through a weekend of cone-stocked autocrosses, and appease on the ride home from a short full-on track session. The versatility of the new Civic Type R riding on the basis of a hatchback sporting 4 doors and the tall-opening rear hatch is a wise choice by Honda. After first experiencing the Honda Civic Sport in its hatchback form and after hearing news of us getting the Type R stateside, I was ecstatic, and that enthusiasm has been enlightened during my week-long escapade in the new Type R.
Getting down and dirty with the Civic Type R is an enjoyable experience, one that literally took me for a ride and caught me off guard. There is virtually no torque steer despite a robust 295 lb-ft of torque and 306 horsepower from the 2.0-liter turbocharged 4-cylinder engine. The front 20-inch wheels and extremely low-profile Continental tires grapple for traction through first and second gear while third gear digs in to reach 60 mph in 5 seconds flat after several attempts of slipping out the nearly perfect-feeling clutch. The feat wasn't without fault as you can easily get an abundance of front axle wheel hop. Still, the balance and handling dynamics of the Type R with its front-end weight bias feels as if the rear wheels are doing some magic to keep things firmly planted to the road. Just know, the new Honda Civic Type R is mean and ready to take on the famed Subaru WRX STi, Ford Focus RS, and any other modified hot hatch that you throw at it… yes, it's just that good.
See Also: 2017 Honda Civic Hatchback Sport Review & Test Drive
Honda's long-standing solid engineering, something that has honestly been more on the conservative side of things touting remarkable reliability and taking up ample ground in middle-class suburbia as of late, has lit a new fire that's burning hotter than the temps of the three-outlet exhaust of the new Civic Type R at its 7,000 rpm redline.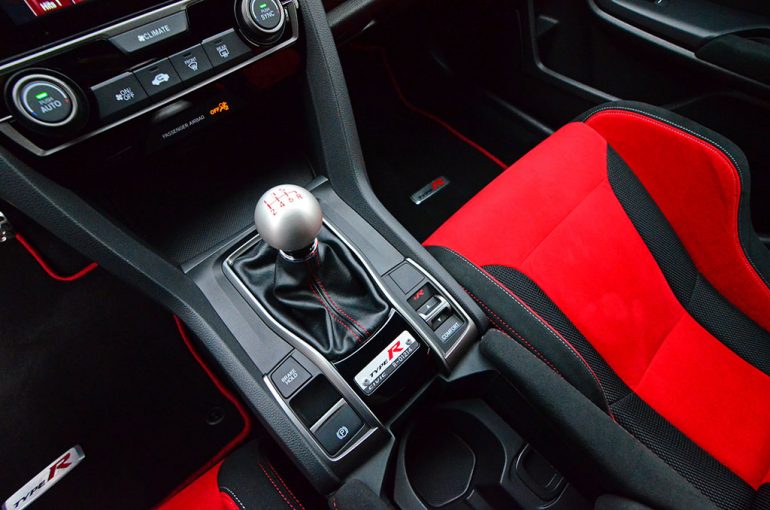 Honda has had a tradition of making some of the best manual transmissions, and the new Civic Type R is no exception. The clutch pressure is spot on, a tad heavier than my GT350 and lighter than the Focus RS. The shift gates are assuring with each throw and the down-shift-rev-matching system, which can be disabled, makes you feel like a pro-driver when you don't feel the urge to master heal-toe downshifts. Of course, the Honda Civic Type R only gets a 6-speed manual transmission, which is the way it should be.
The new Honda Civic gets outlandish looks. There isn't much getting around how the Civic Type R looks, which is more of a limiting factor to reaching a broader demographic. The boy-racer looks of the Civic Type R are more suited for younger folks, those who want to break out of their Uber ride and smartphone addiction to experience something that titillates unused parts of their brain. Ultimately, millennials who love driving and have the job to supplement admission to most sought-after and relatively affordable roller-coaster for the road will want to apply for a stab at the new Civic Type R. Price for the new Honda Civic Type R, which comes as one form with no additional factory options available, comes in at $35K – not a bad fee to pay for the level of performance with the same welcomed touch-screen infotainment unit that you get in the Civic Touring trims. Though, there aren't many creature comforts outside of the well-connected infotainment system with Apple CarPlay/Android Auto. However, you do get LED headlights, LED foglights, LED brake lights, auto-up/down front windows, a multi-angle rearview camera, an LCD gauge cluster that customizes its looks to each of the three drive modes, and those highly-bolstered front seats that hug you like it's goodbye forever.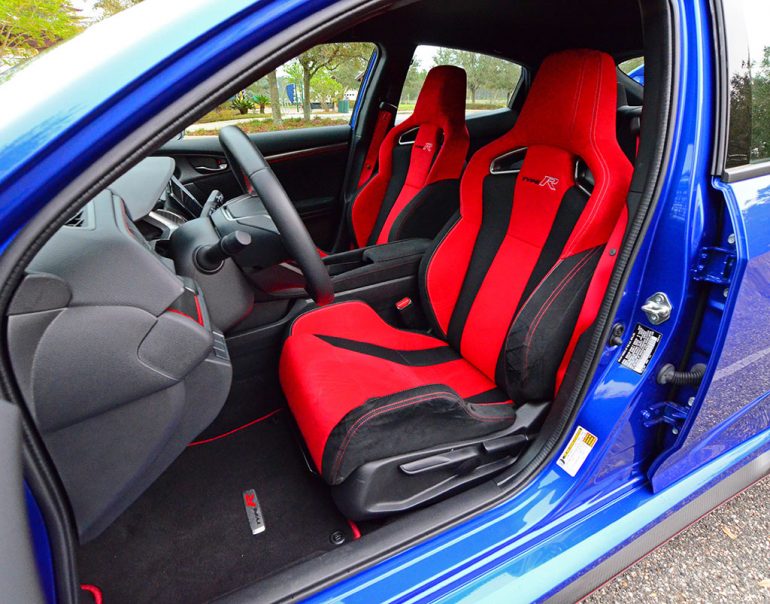 Some of the other questions surrounding the new Honda Civic Type R are summed up in its looks, which may not be perceived well by anyone over 30. Otherwise, youngsters smile just at the glance of the ridiculously large rear wing, 20-inch wheels, and red accents. The adaptive dampers and suspension setup work surprisingly well with the low-profile 245/30/ZR20 summer performance tires wrapping the unique 20-inch aluminum wheels, which would otherwise be thought to emit a harsh ride like any other rubber band wrapping-tires. The Honda engineers took the wheel and tire package into consideration, as they did with the functionality of its wild looks with a down-force inhibiting rear wing and a few air-channeling bits, which all mix into the foray of many other appearance-only pieces. It's always refreshing to know that the inner and outer workings of the functional exterior bits, together with a torque curve that carries its max output from 2,500 rpm on up to 4,500 rpm, affords a record-for-a-front-wheel-drive-car Nürburgring time of 7:43. As it turns out, those outlandish looks may be an excuse for true performance-inhibiting advantages, or not. I'll leave it to the neck-turning folks to be the determining case for the Type R's looks. After all, the Type R garners an abundance of looks with intriguing faces who probably don't know what to think at first glance.
In all, I could almost see myself in a new Honda Civic Type R after spending time with its direct competition. Is it better than the Ford Focus RS and Subaru WRX STI? Sure, it is – if the other two vehicles were front-wheel-drive and the Type R's looks were toned down to fit the mold of middle-aged folks. Though, I'm not to say that the front-wheel-drive Civic Type R is a lesser vehicle than the Focus RS, WRX STI or even the Volkswagen Golf R, it just has its own unique character that's been wanted for as long as the Civic Type R has existed across the pond. Now, we get to enjoy the modern interpretation of Honda's coveted Civic Type R and it taking the crown for the best front-wheel-drive car for enthusiasts that we have in the states – that's just a fact.
>> Get the best price on the Honda Civic from a network of local dealers now. <<
SPECIFICATIONS
Price: Civic Type R MSRP $34,100 / As-Tested $34,990
>> Get the best price on the Honda Civic from a network of local dealers now. <<
Engine: 2.0-liter DOHC turbocharged 4-cylinder 306 horsepower @ 6,500 rpm / 295 ft-lbs. torque @ 2,500-4,500 rpm
Transmission: 6-Speed Manual
Wheelbase: 106.3 in.
Total length: 179.4 in.
Total width: 73.9 in.
Total height: 56.5 in.
Headroom: f/r-39.3/37.4 in.
Legroom: f/r-42.3/35.9 in.
Cargo volume: 25.7 cu.ft. (46.2 cu.ft rear seats down)
Curb weight: 3,117 lbs.
0-60 mph: 5.0 seconds
EPA mileage: 22 mpg city / 28 mpg highway