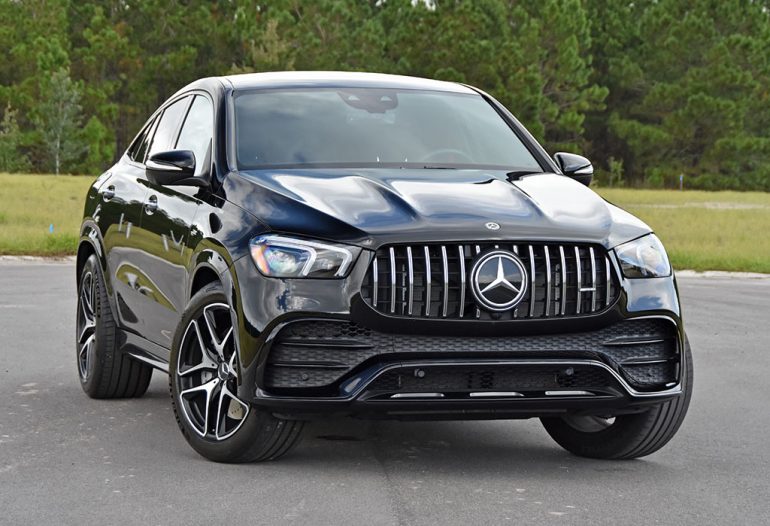 Crossover utility vehicles are here to stay in America, and manufacturers like Mercedes-Benz will continue their efforts to capitalize on such a craving by expanding on their lineup of CUVs. The latest creation in the scheme of CUVs is the redesigned GLE that comes in many variations, including the new 2021 Mercedes-AMG GLE 53 Coupe, which is a sleek coupe-looking crossover that brings much of what I enjoyed in the redesigned GLE crossover.
See Also: 2020 Mercedes-Benz GLE 450 Review & Test Drive
As an AMG vehicle, the GLE 53 Coupe puts sporty looks at the forefront with a respected powertrain by way of a 48-volt mild-hybrid setup and a turbocharged inline six-cylinder engine. The mild-hybrid system works well to add up to 21 horsepower and 184 lb-ft of torque on demand, part of the GLE's "EQ Boost". All-in, there's 429 horsepower and 384 lb-ft of torque that's sent through a 9-speed automatic transmission to power all four wheels. The power is decent and comes on seamlessly whether the mild-hybrid system is coming off of its engine shut down where the engine starts up instantaneously from the electric motor instead of a conventional starter. In fact, all of the accessory components of the engine are internal, there's no use of engine fan belts.
Power is adequate but never earth-shattering. The GLE 53 Coupe makes it up to 60 mph in about 4.7 seconds, which is not bad to get all of its 5,322 pounds moving. The initial grunt power of the engine and mild-hybrid motor setup is really good, as is where the electric motor fills the power gaps of the turbocharged engine, which is satisfying in the mix of traffic on busy highways. The engine often shuts down in the normal Comfort drive mode for coasting to save fuel, and it does just where I observed 24 mpg and sometimes as high as 26 mpg on the highway cruising at the posted speed limit of our local highways. The EPA estimates are 18 mpg city, 23 mpg highway, and 20 mpg combined, which I was able to best in most cases. Also, the GLE 53 Coupe has a long range, up to 580 miles or more, thanks to its 22.5-gallon gas tank.
Ride quality is decent but can be a little twitchy at times in either drive mode, which changes the attitude of the adaptive dampers and can lower the ride height in the Sport and Sport + drive modes. The air suspension does well to soften the ride, but there's something a little bouncy about the GLE 53 Coupe, which may be a characteristic of both the suspension setup and massively-sized wheels and tires, which were 21-inchers on my test vehicle but extra-wide 315-series rears and 275s up front. The beefy Michelin PS4 SUV tires proved to be excellent in dry and wet conditions.
The unique coupe-like body design of the GLE 53 Coupe makes it stand out in a crowd and quite unmistakable for something different from the rest of the CUV/SUV crowd. However, the style is one of the few things that are admirable for being a crossover as the coupe-style cuts down on the expected purpose of a crossover with a lower roofline out back that takes away from the cargo capacity as well as ease of entry and exit in the rear seating area. What makes up for the smaller roof space is the luxurious and inviting interior that puts Mercedes' latest tech at the forefront wrapped up with bright 64-color ambient lighting, open-pore wood trim, comfy yet sporty seats with heating, and the latest MBUX (Mercedes-Benz User Experience) infotainment unit fed through a large pair of 12.3-inch touchscreens. The redundancy of controls in the MBUX system make for an enjoyable and immersive experience, even with a somewhat short learning curve. The system isn't entirely userfriendly but it does well to allow many different methods of interaction, which starts with the expansive voice control that's summoned by saying "Hey Mercedes." I've explained many other positive notes about the MBUX system in other Mercedes reviews, and much of what I enjoyed carries over to the new GLE 53 Coupe.
One of the surprising aspects of the GLE 53 Coupe, apart from its unique look, shortened height out back, and even the fact that it can only be had in two AMG trims (GLE 53 or GLE 63), is the top speed being limited to 112 mph. I won't confirm me finding out this interesting fact on a closed road, but such a speed is not very AMG-like if you ask me. Not that there are many places you want to break into triple digits without facing issues with local law enforcement, but there's something to ponder.
AMG vehicles aren't cheap, and the bigger and faster they get, the more you're going to pay. The GLE 53 Coupe isn't small, and it's not exactly slow, except for that governor-limited top speed, but you'll expect to pay at least the base price of $76,500 where it can quickly grow to my mid-level-equipped test vehicle's $84,105 and beyond.