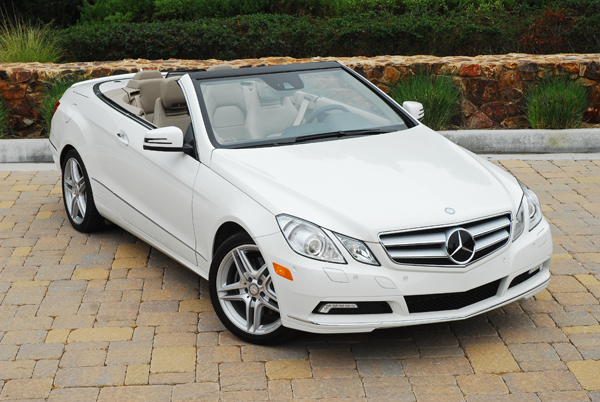 'STYLISH FOUR SEAT FUN IN THE SUN'
The all-new E-Class cabriolet is the latest edition to the successful Mercedes-Benz E-Class line-up of mid-size vehicles.  The E350 continues the Mercedes-Benz tradition of manufacturing stylish, well built automobiles with world-class engineering, innovation, luxury, high-technology and safety features like few others.
The unique, elegant and sporty exterior design of the E350 cabriolet starts up front with a 'cubist' treatment of the trademark Mercedes-Benz twin-headlight face.  Two parallelogram lights are cut into the front flared front fenders, bracketing the three-dimensional frame of the front grille.  With a large star emblem in the center of its sporty two-lamella grille, while the overall body shape of the two-door E350 line features a sophisticated interplay between lines and surfaces.  The silhouette is a subtle wedge shape with highly raked windshield 'A' pillars, a thin, rising, full perimeter chrome strip at the bottom that wraps around the front airdam, front fenders, doors, and through the muscular contours of the rear bumper.  There is also a rising crease starting at the front fenders, along the doors through the pull-out door handles, with chrome accent, and ends at the rear fender.  Another elegant, thin chrome strip appears at the beltline and grows thicker around the rear deck.
These clearly defined lines help define the large concave and convex surfaces of the car.  At the rear, sharply angled LED taillights wrap from the side to the rear, a thick chrome strip shows at the center of the trunk lid cover, while down below are two nicely spread chrome exhaust tips with a diffuser down below to help better manage the airflow at speed.  The optional Appearance Package for sport-minded drivers of the new E350 cabriolet includes 18X8.5in. AMG twin-5-spoke alloy wheels, punched brake discs with painted calipers and a lip spoiler at the end of the trunk.  It is a style that is totally unique to Mercedes-Benz.
The two-door, four-seat Mercedes-Benz E-Class features a classic fabric soft top that can be opened or closed in just 20-seconds, even at speeds up to 25mph.  Its four-layer convertible top is insulated for low noise and year-round comfort, even in very cold or hot weather.  With the top down, a new AIRCAP system works at the push of a dash-mounted button to reduce drafts and air turbulence for all four occupants, and an AIRSCARF system can blow heated air directly on the neck area from outlets in the seat back-just below the head restraints.  The soft top is stowed in a special compartment behind the rear seats.  When the roof is up, the panel between the top stowage area and the trunk can slide to the rear, increasing the trunk capacity by 30%.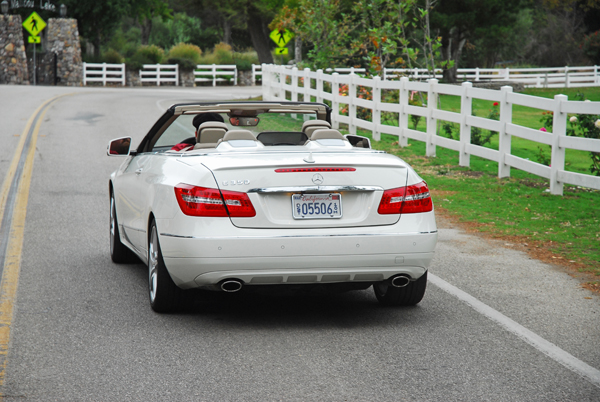 Inside is a cabin you will find comfort, luxury and sportiness that is befitting of any Mercedes-Benz convertible.  Mercedes-Benz designers paid careful attention to the E-Class interior to ensure that every surface is appealing in form, color and material.  The standard leather interior features burl walnut, chrome and aluminum trim plus 14-way adjustable power front seats with integrated headrests and steel seat frames with integrated suspension.  Optional multi-contour seats offer impressively variable seat adjustments through a series of air bladders and mechanical bolsters that are integrated into the bottom cushion and seat back.  Additional controls for the multi-contour seats are tucked between the seat cushions and center console for the perfect fit whether you are just cruising or enjoying a more spirited drive utilizing the sport-tuned suspension.
The cockpit features five analog gauges, including two pairs that overlap each other, as well as a leather-wrapped, power tilt/telescoping three-spoke multifunction steering wheel and console-mounted shift lever.  Also standard is a COMAND system featuring a large 7in. color display screen with a standard in-dash, six-disc CD/DVD changer and a Bluetooth interface that allows a phone still in a pocket or purse to be operated through the car's audio system.  Using the large console-mounted controller the central display in the dash can be operated by either the driver or front passenger.  The COMAND system can be equipped with an optional iPod/MP3 interface, SIRIUS satellite radio, HD radio, and an advanced voice control system for audio, navigation and phone systems.  The new system can also display maps and directions for the optional hard-drive navigation system, which can display SIRIUS real-time traffic information and Zagat restaurant ratings.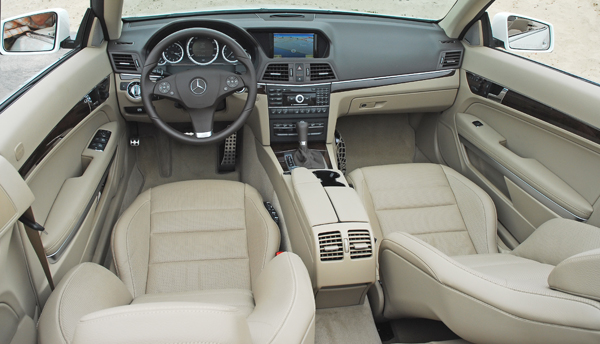 All buttons, switches and levers are within easy reach and fully illuminated for safe nighttime driving.  The rear seating area features a pull-down armrest, dual-cupholders under a burl walnut dual slider, air-ducts at the rear of the center console and 60/40 fold-down seatback for added storage in the trunk.
Also coming standard inside but not mentioned above are power windows with express up/down up front, power door locks, in-dash memory car reader/auxiliary input for MP3 player, dual cupholders, cigar ash tray, deep storage bin with twin-opening top covers, storage slots in each door, deep lighted glove box, storage net at the passenger-side footwell, dual lighted vanity mirrors, four-airducts to quickly cool or warm the front driver/passenger from the dual-zone climate system, auto-dimming reaview mirror, auto-dimming/heated side mirrors, rain-sensing wipers/washers/headlamp washers, dual map lamps, thick cut-pile carpeting, front and rear floor mats and a Universal Garage Door opener.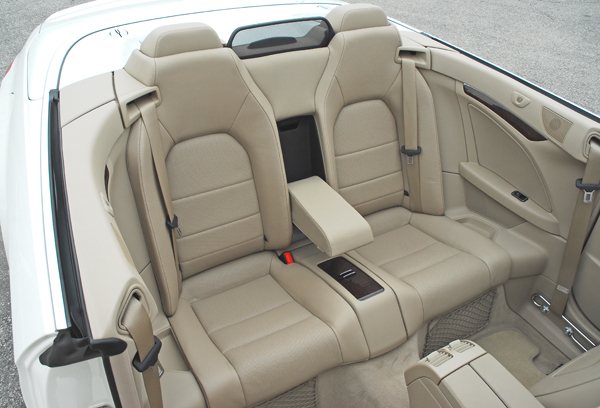 As part of the optional Appearance package inside you'll get stainless steel pedals with rubber studs and black gear-shift paddles on the steering wheel as part of the AGILITY CONTROL Sport Suspension.
My E350 Cabriolet test model came with these options inside, but not mentioned above: Harman/Kardon Surround-Sound Premium Sound System, Hard-Drive Navigation, Rearview camera, heated/cool front seats, Bi-Xenon Adaptive front lights, and KEYLESS GO push-button start/stop.
The new E350 cabriolet is powered by a 3.5 liter, DOHC, all-aluminum V6 engine that generates 268hp at 6,000rpm and 258lb.ft. of torque at just 2,400 to 5,000rpm.  That's plenty of get-up-an-go with 0-60mph coming from a standstill in just 6.7sec.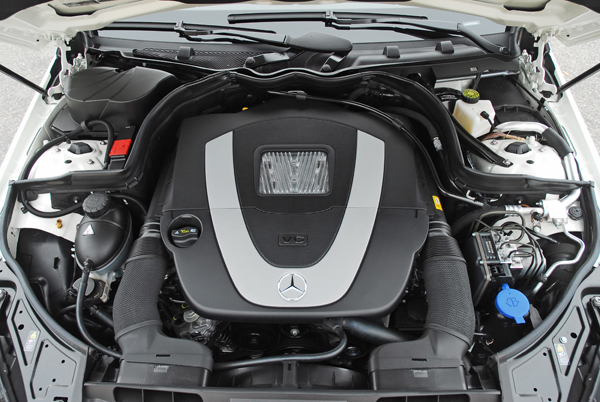 The V6 engine is mated to a seven-speed automatic with Touch Shift manual shift control.  You can just sit back and let the automatic take over with almost instantaneous kick-downs or shift manually by using either the paddle shifters on the steering wheel or by pushing the shifter to the right to upshift or to the left to downshift.  Gear changes come almost instantly and it really gets the adrenaline flowing when you are able to attack curving roads at high speeds.
The excellent fully independent suspension gives you both a compliant ride when you are cruising, or high-performance capability when you want more excitement.  The front suspension features a strut setup with two-piece control arms, anti-dive geometry, coil springs, gas-charged shocks and stabilizer bar.  The rear independent suspension features a five-arm multilink setup with anti-squat geometry, coil springs, gas-charged shocks and a stabilizer bar.  The standard electronic stability control system can keep you on your chosen path or you can shut it down to let the rear wheels slide out when exiting a corner at high speeds.  Standard on E350 models is the AGILITY CONTROL suspension that provides the best of both worlds for a conventional coil-spring suspension.  When you push the console-mounted round button that shows C/S.  A small piston is connected to a bypass port in the hydraulic flow of each shock absorber.  Its design provides a softer, quieter ride on normal roads but retains full shock damping over dips, twisty roads when you need it most.  Just push the button to C (comfort) that shows next to your gear selection in the speedometer, or S (sport).  That's a good choice to have in a luxury sporty coupe.  Precisely guiding you on your drive is the wonderful speed-sensitive power-assisted rack & pinion steering system.  Just a little tug on the steering wheel and the car quickly and precisely goes in that direction, just like a racecar.  That's not bad for a luxury coupe, but Mercedes-Benz blurs the line between luxury and sportiness like no other car manufacturer today.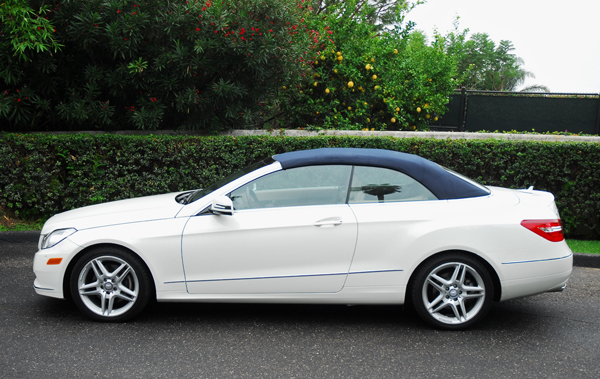 Quickly slowing the E350 cabriolet down from speed are large, power-assisted four-wheel disc brakes.  Up front are 12.7in. vented discs clamped with dual-piston calipers, while in the rear are 11.8in. solid discs clamped with single-pistons calipers.  Braking force and control is augmented by standard ABS and emergency-brake sensing Brake Assist.  These powerful brakes give you the confidence to go deeper into curves knowing that you can instantly slow the car to successfully exit the corner.
The E350 with the optional Appearance package comes with larger 18X7.5in. front and 18X8.5in. rear alloy wheels that are wrapped with 235/40R18in. front and 255/35R18in. high-performance tires in the rear for excellent traction and a compliant ride over all types of road surfaces.  While the cabriolet is heavier than the coupe, my driving impressions of the E350 cabriolet was impressive especially when I switched to Sport mode.  The coil springs tightened up and the reaction to my inputs was quicker and more balanced, almost neutral even though the convertible top and motor are placed right behind the rear passenger compartment.
Outside, inside and under the skin the E350 cabriolet is one of the best luxury sporty open top coupes on the road today.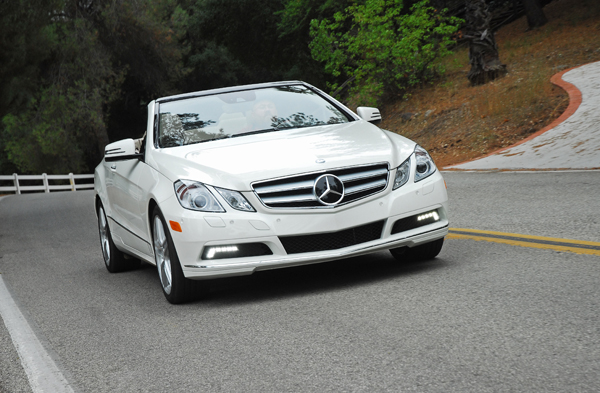 Keeping you and your passengers safe is a long list of safety systems that rivals most any other mid-size luxury sporty four-seat coupe.  Coming standard are 3-point safety belts for all four seats with the front seats having pretensioners and load limiters.  There is standard roll-over protection, NECK-PRO Active head restraints up front, advanced braking with HOLD function, 9 airbags including driver knee airbag and front pelvic airbags, and a tire pressure monitoring system.  Options include Attention Assist system that uses a steering sensor that is coupled to smart software that uses over 70 parameters to establish a unique driver profile during the first 20-minutes of driving.  Between 50 and 112mph, the system identifies the erratic steering corrections drivers make as they begin to get drowsy and triggers an audible warning, and a 'Time for a Rest? Message with a coffee cup icon appearing in the instrument cluster.  Adaptive Highbeam Assist uses a small video camera to sense both headlights and taillights, then softly and automatically transitions between high and low beam operation to avoid dazzling other drivers.  PRE-SAFE Brake can apply 100% braking force in emergencies when equipped with the Distronic Plus, another revolutionary Mercedes-Benz safety feature-PRE-SAFE brake-can now apply full braking automatically in emergencies, to reduce accident severity.  When PRE-SAFE Brake senses an impending rear collision, the system sounds three warning tones.  About 1.6sec. before impact is likely, partial braking is automatically initiated, and the PRE-SAFE occupant protection systems are activated.  If the driver still fails to react, full-power braking is initiated about 0.6sec. before the collision, reducing the impact and effectively acting as an 'electronic crumple zone'.
After just one week behind the wheel of the all-new 2011 Mercedes-Benz E350 cabriolet I wanted to keep it.  I was very impressed with the sleek and angular looks, interior comfort, luxury and safety features, plus a dual personality suspension that took care of my daily driving and the time I found I wanted to see what the car could do when cornering at high speeds.  The E350 cabriolet is almost the perfect all-season, two-door luxury and sporty coupe that can give you the fun of the sun in your face and the wind in  your hair.  Prices start at just $56,850.00 and my nicely loaded model was priced at $68,450.00.
COPYRIGHT:2010:HARVEY SCHWARTZ
SPECIFICATIONS
Price: Base E-Class Cab $56,850 As-Tested $68,450
Type: Midsize Convertible
Where Built: Germany
EPA Class: Midsize Cars
Dimensions
Exterior
Length: 185 in.
Width: 70.3 in.
Height: 55 in.
Wheel Base: 108.7 in.
Curb Weight: 3883 lbs.
Gross Weight: 4927 lbs.
Interior
Front Head Room: 38.3 in.
Front Shoulder Room: 54.1 in.
Rear Head Room: 36.2 in.
Rear Shoulder Room: 47.8 in.
Front Leg Room: 42 in.
Rear Leg Room: 30.1 in.
Luggage Capacity: 11.5 cu. ft.
Maximum Cargo Capacity: 12 cu. ft.
Maximum Seating: 4
Performance Data
Number of Cylinders: 6
Engine Size: 3.5 liters
Engine Type: V6
Horsepower: 268 hp
Max Horsepower: 6000 rpm
Torque: 258 ft-lbs.
Max Torque: 2400 rpm
Drive Type: RWD
Turning Circle: 35.9 ft.
0-60mph: 6.7
Fuel Data
Fuel Tank Capacity: 17.4 gal.
EPA Mileage Estimates: (City/Highway/Combined)
Automatic: 17 mpg / 25 mpg / 20 mpg
Range in Miles:
Automatic: 295.8 mi. / 435 mi. / 348 mi.