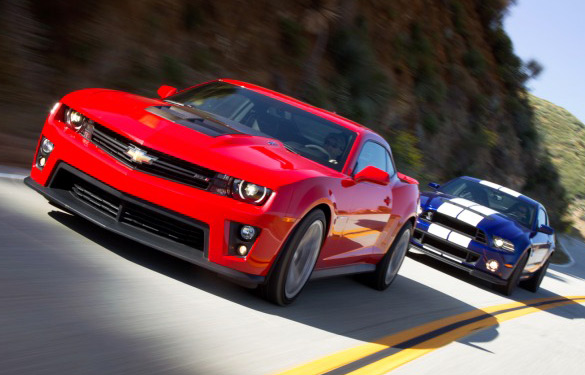 The ultimate modern-day pony car war starts and ends with the new Chevrolet Camaro ZL1 and Ford Mustang Shelby GT500. These two cars are the epitome of modern American muscle cars utilizing the best that automotive technology has to offer. What everyone wants to know, despite the Shelby GT500 having an obvious 98-rear-wheel horsepower advantage over the Camaro ZL1, which one is apt to take home the checkered flag.
What it all comes down to in finding a true victor, is the type of tests that you put these two American muscle monsters through. The Shelby GT500, sporting the most powerful production-car V8 engine, is the obvious victor when it comes to straight-line 60 mph or even quarter mile runs. After-all, it is over 200 pounds lighter than the Camaro ZL1. Of course you better be a good driver to be able to claim a win over the ZL1 in a straight-line, it isn't much of a pushover. Straight-line performance is not the tell-all as you will have Camaro ZL1 fans tell you. When it comes to the handling department, it seems the Camaro ZL1 is more of the conqueror.
SHOP: Get Your Mustang Race Ready with Performance Parts at AmericanMuscle
So, you have the Shelby GT500 with and slight edge in power and the Camaro ZL1 with an edge in handling attributes. Which one would you take to the track confident to walk away in 1st place?
Hit up the comparison video below and check out some of the hard numbers Inside Line gets from these two vehicles.