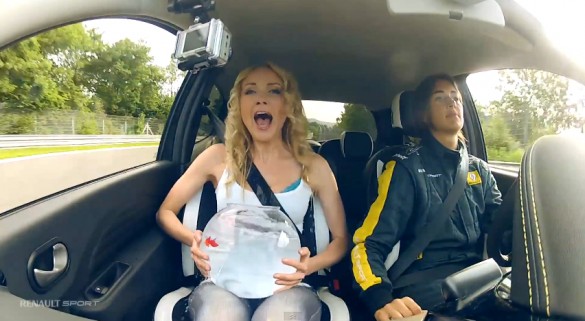 Renault builds some great hot hatchbacks, but its products are forbidden fruit in the United States. It's subcompact Twingo is just one example, especially if we're talking about the 133 horsepower Twingo R.S. Red Bull Racing RB7 edition, which comes with the company's most aggressive "Cup" suspension tuning. Like the Fiat 500 Sport, it's not particularly fast in a straight line, but it does allow you to carry a surprising amount of speed into a corner.
What better way is there to illustrate this than by lapping Germany's Nürburgring Nordschleife in the Twingo R.S., at the hands of a professional driver, while a fashion model sits in the passenger seat holding a goldfish bowl (containing a live goldfish and plenty of water)?
Autoblog found this video before we did, and it's chock full of disclaimers. First, the goldfish was not harmed in the making of this video (although if goldfish have therapy, we're sure he's in it afterward). Next, under no circumstances should you lap a racetrack at speed while holding a glass bowl, with or without a goldfish in it. One off-course excursion (especially on the Nürburgring) and the goldfish bowl becomes a thousand shard of razor-sharp glass.
The original video in Renault's "Challenge Us If You Can" features the Twingo R.S. bowling. We've included it below, but do we even need to tell you which one is more amusing?