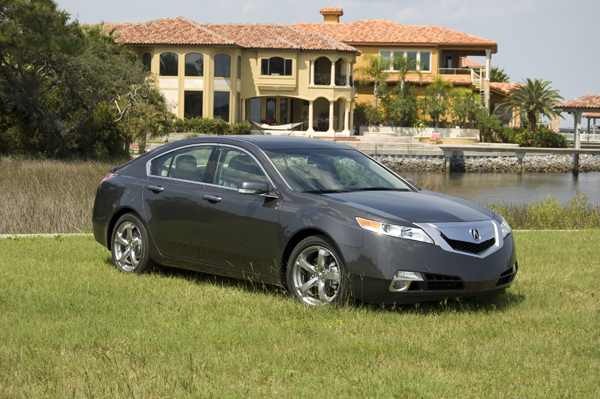 Driving the latest Acura TL had me reminiscing of when one of the very first Japanese luxury cars came to the United States in the form of the Acura Legend. Those days are long gone, which could be a good thing or bad thing depending on how you look at it. We look at it as a good thing because Acura has still managed to keep that 'Legend' going.  Now it can be seen shared in the vast lineup of vehicles all having similar characteristics making them unmistakable, including the 2010 Acura TL.
The new Acura TL SH-AWD with technology package, in which we had the opportunity to review is a worthy contender in such a competitive automotive segment. Polished with some of the latest automotive technology and a sleek newly designed skin aims to set the Acura TL off from its competitors.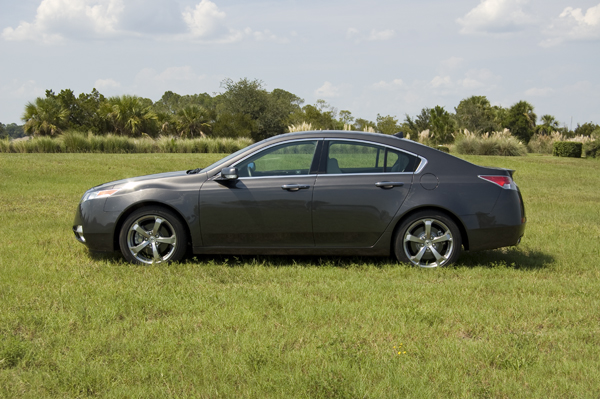 For 2010 the Acura TL remains visually unchanged from its redesigned 2009 model year. A new refined V6 engine for the SH-AWD variant adds more excitement due to an extra 25 horsepower totaling 305hp and 273 ft-lbs of torque in the 3.7-liter V6. Base model TL's get the 3.5-liter V6 power mill generating 280hp and 256 ft-lbs of torque. Pumping all 305hp through 4 wheels makes the 305hp usable and turns the TL into a good performer with the only limitations being the grip of the 18-inch Michelin Pilot all-season rubber.
The Acura TL's Super Handling All-Wheel Drive system (SH-AWD) is truly remarkable. The all-wheel drive system will individually power a wheel when traction in the other is lacking. The system also directs additional power to the outboard wheel under heavy turns. It basically acts as an 'electronic limited slip differential' only for all 4 wheels. The system is actually remarkable giving you an extra sense of security when you come out of a corner laying into the throttle. Because the TL is somewhat light on its feet having 305hp, you can only imagine how much of a handful it would be if it where only front-wheel drive.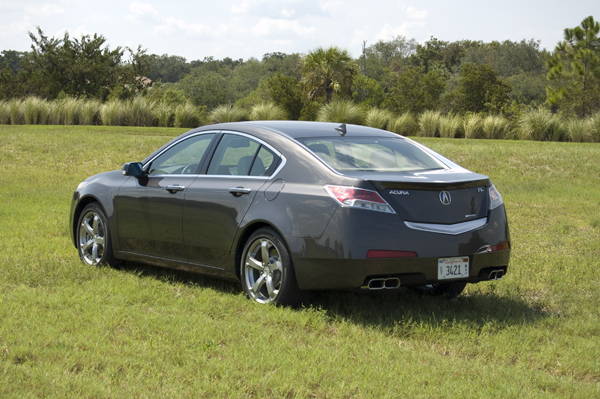 Lately Acura has been somewhat performance and enthusiast oriented. I say this because for 2010 you can opt for a manual 6-speed transmission in the TL SH-AWD. Our test vehicle was fitted with a 5-speed auto that on occasion seems behind the times after stepping out of one of our other test vehicles with a 7-speed auto. Don't let the 5 automatic gears fool you, the TL is not shy about letting its 3.7-liter run to the redline and hammering in the next gear. The performance numbers will show you that the TL is a good performer with a 0-60 time of 5.6 seconds.
Acura's interior has always been tech savvy while incorporating quality materials. Most times the automotive enthusiast and long-term car shopper can tell a slight difference in Honda and Acura interiors due to the use of 'different' surfaces. Some of the surfaces do not try to emulate other materials but instead have their own characteristics such as the textured trim lining the dash. Most of the controls are where they should be and easy to reach. Getting into a new Acura TL and figuring out the controls is only easy if you have not been spoiled by one of its competitors. Otherwise it takes some getting used to but after that everything is a breeze.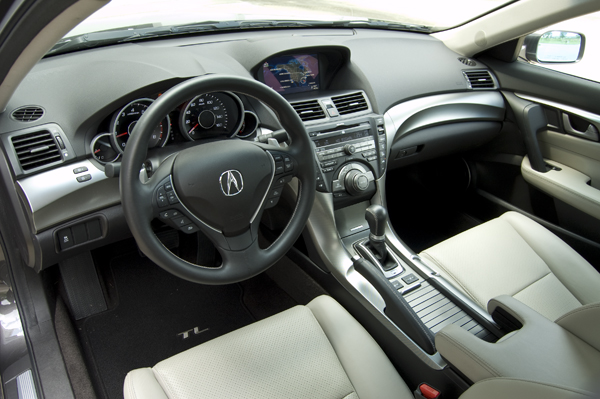 Seating appointments in the TL SH-AWD are very decent with the perforated leather seats and soft bolsters. Seating positions can vary greatly giving the driver several options depending on height and size.
If there is still such a thing as a plug-and-play vehicle, the Acura TL leads the pack due to its explosive sales over the past few years of the previous generation TL. This is mostly due to its great reliability and value factor. The base Acura TL starts at $35,105 and can creep up to over $43 grand for our test vehicle's configuration. The configuration of our test vehicle includes several tech toys such as GPS satellite navigation backed by a wonderful voice recognition system that can be utilized for several common car functions. I found myself adjusting the HVAC controls through voice commands. It was literally a breeze in our Acura TL while under the hot Florida sun.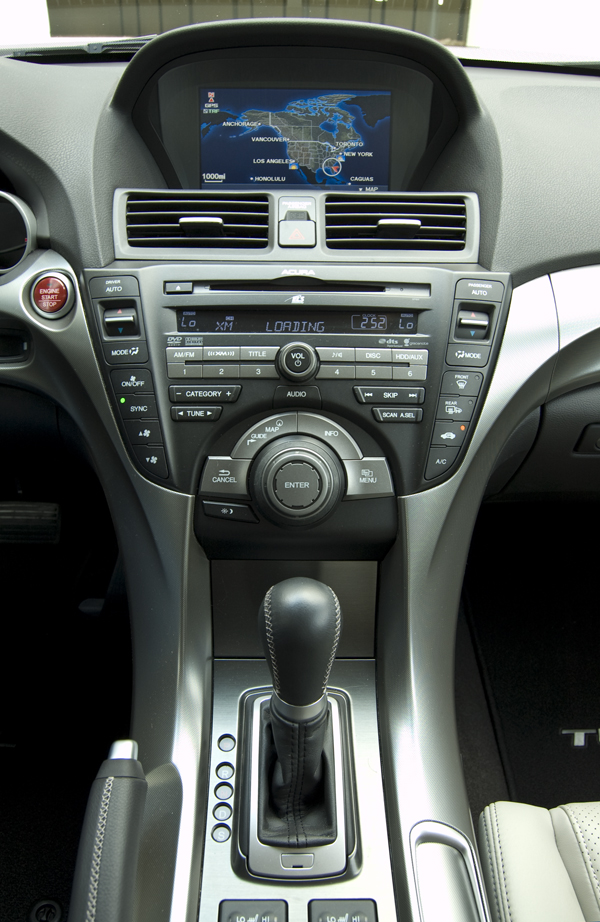 If we could change something about the 2010 Acura TL it would be the numb steering feeling. Although the steering was somewhat effortless when parking, it has very little feel when on the road at certain speeds. Electric steering remains to be a complaint among several other automotive makes as well. So this is nothing new here. The city gas mileage figures (17mpg) could also be improved but we never complained with our 305hp test vehicle put us back in the seat from the smooth and powerful acceleration. On the highway the Acura TL  gets a decent 25mpg.
Overall, the 2010 Acura TL SH-AWD is an amazing transportation appliance. It does what it is supposed to very well with very little complaints. The styling of the TL remains to be controversial with some, but still manages to gain the love of those looking for a solid value in a mid-sized luxury vehicle.
Copyright: 2010 AutomotiveAddicts.com
SPECIFICATIONS
Price: Base Acura TL 3.5 $35,105 As-Tested Acura TL SH-AWD Technology Package $43,195
Type: Midsize Sedan
Where Built: United States
EPA Class: Midsize Cars
Dimensions
Exterior
Length: 195.5 in.
Width: 74 in.
Height: 57.2 in.
Wheel Base: 109.3 in.
Ground Clearance: 5.7 in.
Curb Weight: 3975 lbs.
Interior
Front Head Room: 38.4 in.
Front Hip Room: 55.7 in.
Front Shoulder Room: 58.2 in.
Rear Head Room: 36.7 in.
Rear Shoulder Room: 56.2 in.
Rear Hip Room: 54.8 in.
Front Leg Room: 42.5 in.
Rear Leg Room: 36.2 in.
Luggage Capacity: 12.5 cu. ft.
Maximum Seating: 5
Performance Data
Number of Cylinders: 6
Engine Size: 3.7 liters
Base Engine Type: V6
Horsepower: 305 hp
Max Horsepower: 6300 rpm
Torque: 273 ft-lbs.
Max Torque: 5000 rpm
Drive Type: AWD
Turning Circle: 38.4 ft.
Fuel Data
Fuel Tank Capacity: 18.5 gal.
EPA Mileage Estimates: (City/Highway/Combined)
Automatic: 17 mpg / 25 mpg / 20 mpg
Range in Miles:
Automatic: 314.5 mi. / 462.5 mi. / 370 mi.