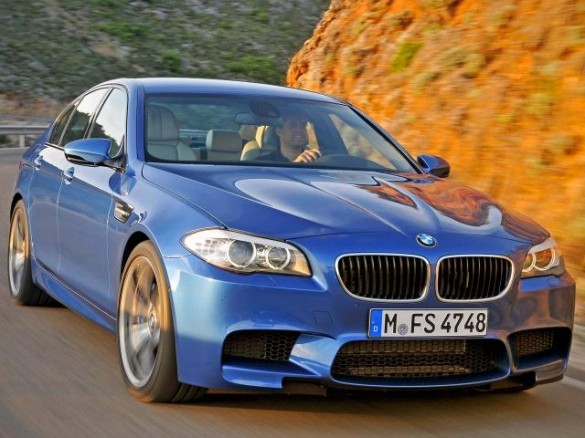 We already saw the official images of the new 2012 BMW M5 Concept back in April and now the guys at Bimmerpost (F10.5post) have leaked the first official BMW F10 M5 production model photos onto the web before its official reveal.
From the looks of the official production images of the new M5, BMW has kept things in line with the Concept M5 which is not a bad thing at all. From the very first production BMW M5 back in 1985 to what we see here now, the M5 has evolved into a tasteful modern iteration of the fastest 4-door BMW has to offer.
The new 2012 BMW M5 will have 552 horsepower at 6,000 rpm and 501 pounds-feet of torque at 1,500 rpm via its twin-turbo V8 engine. This will propel the new M5 to 62mph from a standstill in 4.4 seconds. A new M-Drivers Package will raise the top speed to an astonishing 189 mph.
Power will be directed to the rear wheels via a standard dual-clutch transmission while a 6-speed manual will allegedly be offered in the U.S.
Pricing information has not been confirmed as of yet be we speculate a price of entry starting near the 6-figure field of $100,000 considering it is rumored to start around 100,000 euros in Germany. At any rate, you may want to start putting your money away now.
Official Specs:
560PS (552hp) / 680Nm (501tq) V8 twin-turbo
552hp at 6,000rpm (E60 M5 reached max 507PS at 7750rpm)
Max torque at just 1500rpm (vs E60 M5 which had max torque of 507Nm)
7-speed DCT transmission (manual transmission also likely, based on yesterday's photos)
0-100km (0-62mph) in 4.4 seconds (E60 M5 took 4.7 seconds)
0-200km (0-124mph)in 13 seconds
M-Drivers-Package will increase top speed from 250km/h to 305km/h (127mph to 189mph)
Active M-differential with torque vectoring
Looks to break 8min lap at Nurburgring
Tires are 265/35 ZR 20″ front 295/30 ZR 20″ rear
[source: Bimmerpost]