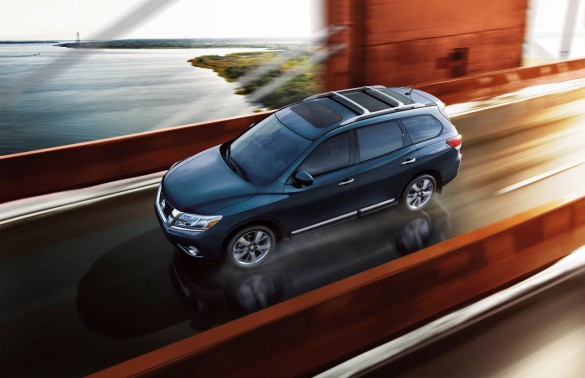 The original conception of SUV's came in the form of a truck-based platform. Lately, many SUV's have taken a different direction incorporating a car-based unibody design. For upwards of 27 years the Nissan Pathfinder has been in existence first as a boxy body-on-frame design later going the way of a unibody structure and then for its last 7 years of existence, took on its original truck-based architectural roots.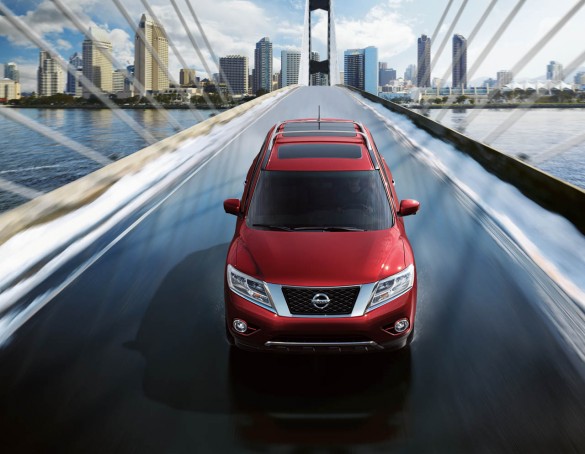 Now the all-new 2013 Nissan Pathfinder takes on a new face integrating the same underpinnings as the upcoming Infiniti JX. Built on a new unibody platform, the new Nissan Pathfinder will be lighter, stronger, and sportier than all previous conceptions. Still in "concept" form, the 2013 Nissan Pathrinder touts Nissan's famed VQ-series V6 engine mated to their latest version of their CVT (Continuously Variable Transmission). Together, the new powertrain will yield a 25% improvement in fuel economy. Moreover, the new Pathfinder will feature an innovative 7-passenger seating configuration.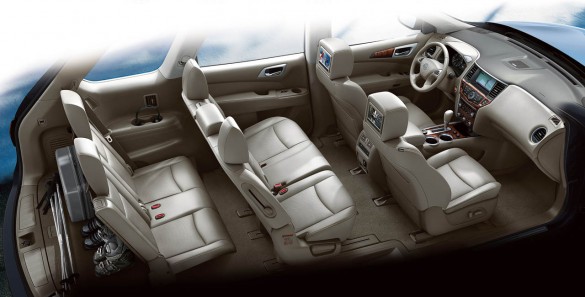 Hit up the official press release from the North American International Auto Show below for additional information while the new Pathfinder is still in concept form.
Nissan Pathfinder Concept Meets Changing Customer Needs for Enhanced Style, Comfort and Fuel Economy

– Pathfinder Concept Previews Innovative 4th Generation Design's Fresh New Styling, Full-Size Roominess; Makes World Debut at North American International Auto Show –

In 1986, when the Nissan Pathfinder first appeared, it quickly revolutionized the sport utility vehicle segment. Offering previously unavailable features such as ample cargo room and a comfortable on-road ride, along with authentic off-road adventure performance, it immediately set a new standard in the emerging SUV class. Now 27 years and 1.2 million-plus Pathfinder sales later, a new dimension is about to be added to the popular nameplate with highly evolved, aerodynamic styling – previewed in the stylish Nissan Pathfinder Concept.

"If there is one constant among the first quarter century-plus of Pathfinder's existence, it has been its ability to innovate, with each generation evolving to meet the changing needs of the customer," said Al Castignetti, vice president and general manager, Nissan Division, Nissan North America, Inc. "With the upcoming, fourth-generation model, we're about to re-invent Pathfinder again. We've created a vehicle with an extraordinary balance of SUV capability, thoughtful technology and premium comfort to lead the segment once again – and help owners accomplish more in the real world, not just off-road."

One of the biggest changes to the upcoming Pathfinder design is the return to a unibody platform (also utilized on the second generation Pathfinder), which offers numerous benefits including enhanced interior packaging flexibility. This, in turn, provides an opportunity to create a more aerodynamic exterior without compromising headroom or cargo capacity. One constant through the previous generations of Pathfinder, and that continues into the new design, is its strong presence.

Moving upscale in look, the new exterior styling presents a smart fusion of signature Nissan styling cues and dynamic strength. The look is adventure-ready with wheel-oriented muscular fenders and a strong, stable stance. The upper body features an open cabin with a low beltline and thin A- and D-pillars, which flow smoothly into the rugged, durable-looking lower body. The new Pathfinder utilizes front and rear spoilers, rear tire deflectors and rear suspension fairings to help achieve what is expected to be among the best aerodynamic performance in the segment.

Other exterior details include a wide chrome grille and large aerodynamic headlights, recessed front windshield wipers, chrome door handles and large rear combination lights. A panoramic dual-panel moonroof, with sliding opening front panel and fixed rear glass panel, combines with the large windows to create an open, airy interior environment.

The Pathfinder Concept provides full-size cabin roominess inside, yet with a highly manageable exterior size. In one other important measurement, the next-gen Pathfinder is expected to weigh substantially less than the previous body-on-frame design, which helps contribute to the enhanced fuel economy performance.

"With its new, aerodynamically optimized shape, the styling is a major step forward in the evolution of the SUV – retaining its people and cargo hauling utility without looking quite so utilitarian," said Castignetti. "It's fitting that a vehicle that tackles adventures in a whole new way also now completely looks the part."

Details on the Pathfinder Concept's all-new 3-row, 7-passenger interior, featuring an array of innovative seating, comfort, entertainment and convenience features, will be released in the near future.

Addressing buyers' desire for more efficiency in every aspect of their lives, the Pathfinder powertrain utilizes a refined V6 engine mated to a next-generation Continuously Variable Transmission (CVT) to provide an expected 25 percent increase in combined City/Highway fuel economy (over the previous V6-equipped design). The Pathfinder Concept also features an intuitive four-wheel drive system and a towing capacity comparable to the leaders in the segment.


"With the new engine and CVT combination's unprecedented efficiency, it maintains nearly the same horsepower as the previous generation's larger displacement V6, as well as a similar driving feel," said Castignetti. "It also retains its ability to tow boats, jet skis, trailers and a variety of other recreational gear, and its role as an excellent vehicle for unfavorable driving conditions with four-wheel drive."

The next-gen Nissan Pathfinder, based on the Pathfinder Concept design, is scheduled to go on sale at Nissan dealers nationwide in fall 2012.

"The new Pathfinder carries on the tradition of the adventure-ready vehicles that have come before – offering a new level of family enjoyment and engagement that is just right for today's real-world, everyday uses," concluded Castignetti. "After more than 25 years, Pathfinder is ready to tackle new terrain and the new challenges of modern family lives."
[source: Nissan]