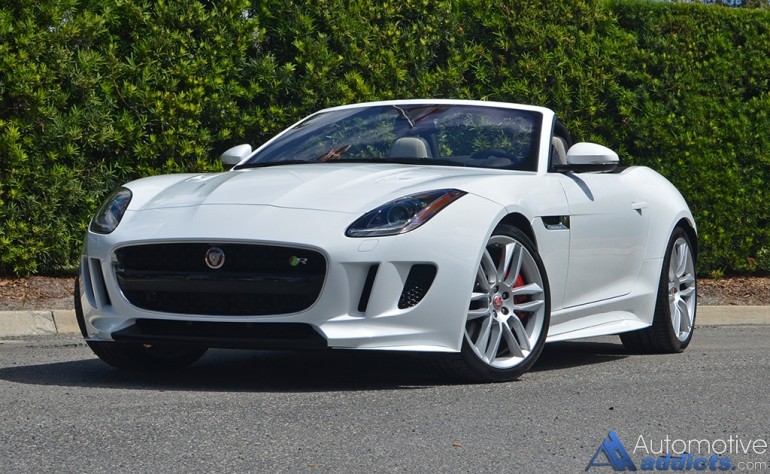 Have you ever went to the Zoo and ended up in the Jaguar exhibit only to think what it would be like to climb the fence and greet one of the beautiful and majestic creatures? Well, my week-long experience with the Jaguar F-Type R Convertible wasn't as heart-pumping as such a thought, though, it was eventful in the enjoyment of piloting one of the loudest and visceral mainstream vehicles you can buy on the current automotive market, with a folding soft-top to boot.
>> Get the best price on the Jaguar F-Type from a network of local dealers now. <<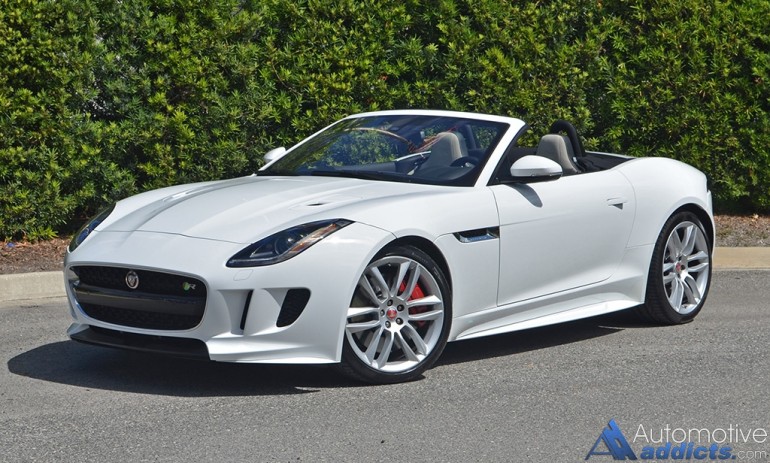 Entering into its third year of production, there aren't many automotive enthusiasts left in the dark about the Jaguar F-Type and its high-strung Supercharged-V8-Powered R version that has the most vivacious backfiring and growling exhaust notes around out of the box. Apart from the ridiculous yet intoxicating exhaust note when placed in Dynamic mode (firms up adaptive dampers, adds weight to steering effort, advances throttle response), with the two-stage exhaust valves set open, the 550 horsepower and 502 ft-lbs. of torque surging through an 8-speed automatic transmission to all four wheels formulate a menacing cat ready to pounce on the competition.
See Also: 2016 Jaguar F-Type R Coupe Review & Test Drive
I'm fairly sure that taming a wild animal like a Jaguar isn't an easy feat, just as the task of strapping behind the wheel of the new Jaguar F-Type R Convertible demands your undivided attention. Though, the assured handling of the F-Type R with all four wheels clawing at the pavement with grippy Pirelli P-Zero tires inspires confidence with any driver who dares to commit to full throttle adventures. The Jaguar F-Type R Convertible thrives off of its stable and rigid architecture, which it was originally conceived in such a mold. Having the Jaguar F-Type first based on a drop-top formula, the body structure doesn't have much flex or unwanted body or cowl shake. Moreover, the overall curb weight is kept in check to fall not to far from its coupe sibling in the same trim. Such a thoughtful design retains the F-Type's road-going prowess and avoids the limitations and unwelcomed after-effects of traditional convertibles that are somewhat considered as chopped-up coupes.
The F-Type Convertible is its own creation, a sexy beast that exhibits some of the inherited traits of a British grand tourer but has an exotic attitude and appeal. With that, the Jaguar F-Type Convertible, in its nearly-top-level R trim, brings forth the brand's 5.0-liter Supercharged V8 engine and a snappy-shifting ZF-sourced 8-speed transmission. As a whole, the drivetrain is a delightful choice for those who want their cake and want to eat it too. Zero to 60 mph comes in about 3.6 seconds, a rather consistent time that can be accomplished time and time again without hiccup or disappointment.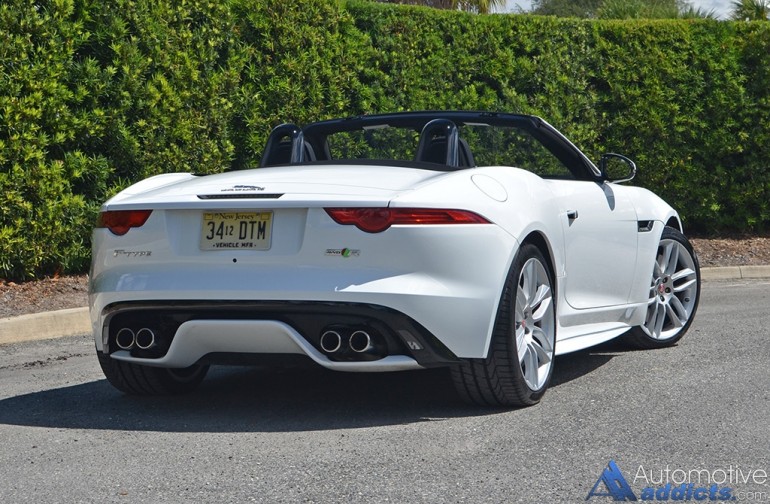 Performance is abundant, and the rear-power-bias of the all-wheel-drive system allows you to do a little dancing out back with a taste of oversteer. Thankfully, for those less-skilled drivers, the bit of oversteer is quickly remedied with a pull from the front wheels and stability control delicately stepping in. Braking performance is initially good but starts to fade slightly as the rotors reach high temps upon multiple high-speed braking. Still, the braking didn't falter to the point of concern. The braking is such an area would be where the optional Carbon Ceramic brakes would help – if you ever take your Jaguar F-Type R to the track.
The premium fuel thirst of the Jaguar F-Type R Convertible is almost a given considering its force-fed V8 and clattering-backfiring exhaust that purposely dumps additional fuel for the sake of titillating your hearing senses upon deceleration. The excessively popping and backfiring exhaust may seem to be a bit unnecessary for some, but for enthusiasts, it is entirely necessary. It definitely turns head, sometimes putting bystanders in fear for their life as it may sound like a distant drive-by shooting. Of course, the payment for such shenanigans is an EPA-estimated 15 mpg city, and 23 mpg highway, and 18 mpg combined.
The luxury appeal of the Jaguar F-Type R Convertible falls in line with what you would expect from a brand that has no compromise with its cabin's abundant proportions of leather wrapped soft-touch surfaces throughout – all with a tightly-knit fit and finish. The sporty "R" heated seats of the two-seater F-Type R Convertible finish off the cabin's luxury and sports appeal with nearly the right amount of bolstering and padding as to avoid being overly supportive. The only drawback to the cabin, which remains to be an unfortunate expectation for Jaguar vehicles, is the infotainment system with a somewhat slow-responding touch screen and a number of puzzle pieces that don't fit the overall picture of what such a system should offer in today's advanced tech world. Though, the system remains to be mostly simplistic in its menus and initial operation. Digging anywhere further than its first layer of home screen menus and the system starts to become aggravating with an antiquated feel.
The soft fabric convertible top follows the sleek lines of the F-Type coupe. Putting the top down, which is allowed at speeds up to 30 mph, is a quick folding act taking a mere 12 seconds. Driving with the top up ambient road noise intrudes the cabin as does a subtle vibration, but nothing to the point of being annoying. With the top down, the Jaguar F-Type R Convertible looks the part of an exotic roadster always demanding attention and rightfully getting it from endless thumbs-up from onlookers.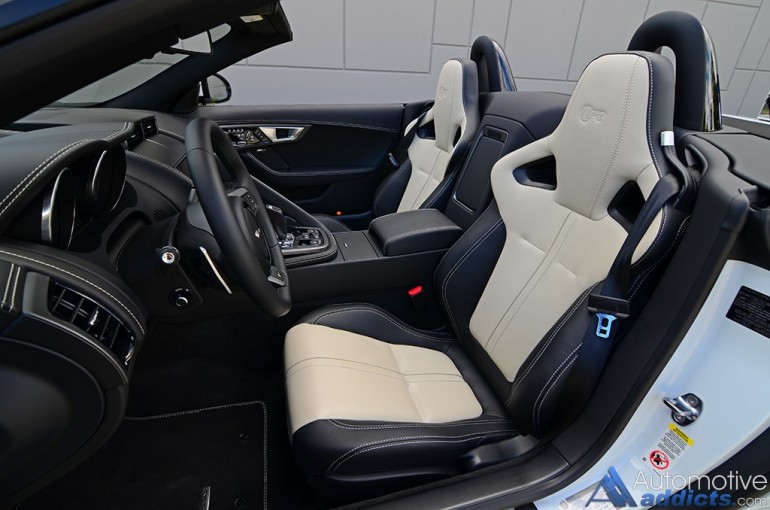 Jaguar, as a brand, thrives off of being different, and it pays its dividends to those who think its "good to be bad." The F-Type R Convertible, with its fast opening and closing soft top, is one of those near-exotic vehicles that treats its driver and passenger with either a plush luxury touring vehicle or a brutish and outright daring sports car that isn't afraid of making a few bystanders either jealous or angry. Either way, the F-Type R Convertible is unapologetic and totally in line with what enthusiasts want in a purring cat with a mean streak that can be tamed or let loose into the wild ready to eat its prey alive at the drop of a dime.
The 2017 Jaguar F-Type Convertible in its base S Supercharged V6 trim starts at $84,000. Moving up the line to the F-Type R Convertible you will expect to pay $109,245, which is the bottom line of my test vehicle this week without any cost-options, and a destination charge of $995.
>> Get the best price on the Jaguar F-Type from a network of local dealers now. <<
SPECIFICATIONS
Price: Base Jaguar F-Type Convertible RWD $65,400 / As-Tested F-Type R Convertible AWD $109,245
Engine: 5.0-liter V8 550 hp @ 6,000 rpm/ 502 ft-lbs torque @ 2,500 rpm
Transmission: 8-speed Automatic w/Sport and Manual shift mode via steering wheel mounted paddles
Drive: All-Wheel-Drive
Wheelbase: 103.2 in.
Total length: 176 in.
Total width: 74.2 in.
Total height: 51.6 in.
Ground clearance: 3.9 in.
Curb weight: 3,847 lbs.
Headroom: 37.0 in.
Legroom: 43.0 in.
Cargo volume: 7 cubic feet
Fuel tank: 18.5 gallons
Turning circle: 37.8 ft.
0-60 mph: 3.6 seconds
EPA mileage: 15 mpg city / 23 mpg highway / 18 mpg combined